Other members of the MI team who accompanied him included: Mr. Victor Miako (accountant), Mr. Desmond Onyango (Consultant) and Mr. Austine Ayara (Architect). The project has been made possible through funding from the German Ministry for Economic Cooperation and Development and the partnership with the Ministry of Health (MOH). Their support as well as that of other relevant key stakeholders will enable MMUST carry out a number of activities in tandem with the MOU.
---
The Vice Chancellor, Prof. Solomon Shibairo thanks the MI Country Coordinator, Mr. Martin Schoemburg.
---
Thanking the MI team for choosing MMUST, Prof. Shibairo pointed out that Universities require such ultra-modern equipment in order to offer the right quality of training. "On behalf of the Council and the University Management Board, I thank Malteser International for supporting our equipment needs. We shall work closely with MI and the coordinators of the project at MMUST to ensure that the high fidelity simulated laboratory is the best, not only in the region but also internationally," he stated.
Speaking during the meeting with the Vice Chancellor, Mr. Schoemburg assured the MMUST team that Malteser International is committed to support the project to its completion. He noted that the partnership is key in supporting the students in their practical sessions. "We have identified MMUST for our current project at Malteser International. We are going to equip the high fidelity and functional skills laboratory," he said.
---
Ms. Joy China, Prof. Solomon Shibairo and Mr. Martin Schoemburg discuss a point.
---
Reiterating the importance of the MMUST project to Malteser International's programme work, Ms. China confirmed that refurbishing and equipping the high fidelity and functional skills laboratory is one of the key deliverables of the MMUST- MI project. "MI will support the University to have a high fidelity and skills laboratory for high level practicals. I am happy to bring my team to the University," she stated.
The Deputy Vice Chancellors, Administration and Finance (A&F)- Prof. John Kuria Thuo, Planning, Research and Innovation (PRI)- Prof. Charles Mutai, Academics and Student Affairs (ASA)- Prof. Hussein Golicha all expressed their excitement and keenness in having such a well-equipped simulation laboratory which will translate into quality education for MMUST students. MMUST trains all cadres of health professionals.
---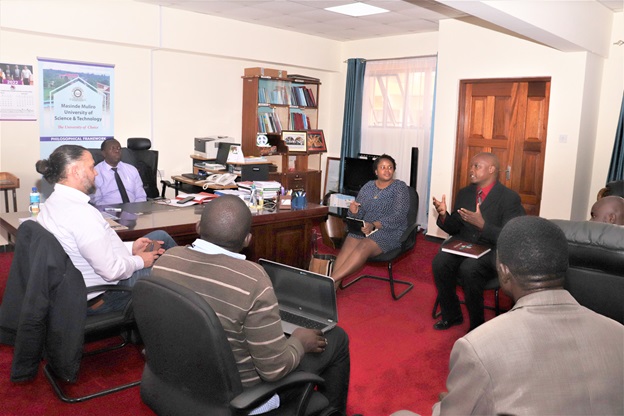 The DVC PRI, Prof. Charles Mutai addresses the MI team.
---
The Project President at MMUST, Dr. Sum explained that the project aims at improving emergency medical training and services with a focus on pre- hospital care, promotion of appropriate legislation, enhanced private and public partnerships, standardized training, curriculum accreditation and improved coordination of relevant actors.
"The high fidelity simulated laboratory will provide a rich environment for our students to acquire high level expertise in all health professions. This will enhance learning through simulations, demonstration, tele- medicine and augmented reality learning," stated Dr. Sum.
Saying that MMUST will be the first University in Africa to train emergency personnel and equip a trauma and emergency laboratory, Dr. Sum revealed that their aim is to utilize science, technology and innovation to become a hub for tackling health related problems affecting the society.
MMUST members who were present at the event were: the Dean, School of Public Health, Biomedical Sciences & Technology (SPHBS&T)- Prof. Edwin Wamukoya, Prof. Stanley Omuterema, Registrar, Planning, Research and Innovation (PRI)- Prof. Alice Ndiema, Coordinator, AIDS Control, Gender and Disability Mainstreaming Unit- Prof. Gladys Mengich, the Dean, School of Medicine (SOM)- Dr. Donald Kokonya Director, Corporate Communications and Marketing (DCCM)- Dr. Lydia Anyonje, the Dean, School of Nursing, Midwifery & Paramedical Sciences (SONMAPS)- Mr. John Arudo, Lecturer Paramedical Sciences- Ms. Lydia Nyachiro, Lecturer Paramedical Sciences – Mr. Simon Ogana and Estates officer- Mr. Enock Omondi.
Indeed, the MMUST- MI project, which was mooted in August, 2021, will strengthen emergency care systems and contribute towards Universal healthcare in Kenya. In the wake of limited learning resources for training healthcare professionals in Africa, such support will benefit the neglected professions such as emergency services, health records and community health risks.
---
By Dr. Lydia Anyonje and Verna Awuor
Photos by Wilberforce Shiundu and Gabriel Juma