Women Sitting Volleyball teams warming up.
---
Speaking during the opening ceremony, the Deputy Vice-Chancellor, Academic and Student Affairs, Prof. Hussein Golicha, noted that MMUST prides itself on being at the forefront to champion sports as a vehicle for social integration. He added that our students are involved in many different sports and their performance has put the University on the global map.
"With the increasing number of students with disabilities, we expect to participate more competitively in disability sports," stated Prof. Golicha.
---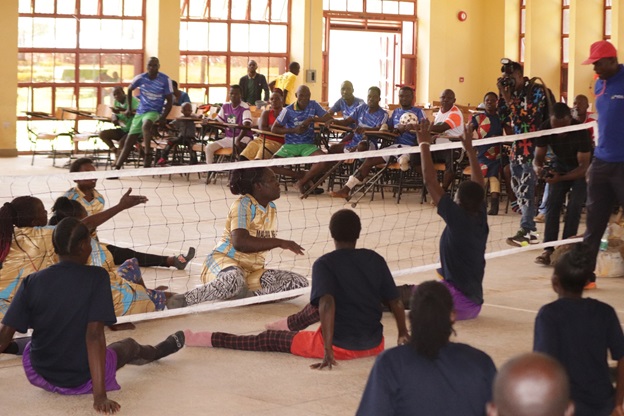 Women Sitting Volleyball teams warming up.
---
The event was also graced by the County Government of Kakamega First Lady, Prof. Janet Kasili who expressed delight to the organizers of the event. She assured that the County Government of Kakamega has a special kitty for People Living with Disabilities and will support their needs and talents.
"It is our role to nurture talents, mentor, and support you. I would like to assure you that through the Barasa foundation and the County Government of Kakamega, we shall ensure that your needs are met and see to it that you perform even better," said Prof. Kasili.
---
County Government of Kakamega First Lady, Prof. Janet Kasili addressing the UHAI Festival participants.
---
Addressing the participants, the Dean of students, Dr. Bernadette Abwao termed the event special. "We are pleased to undertake this task of ensuring that we bridge the gap and foster inclusion of People Living with Disabilities by celebrating diversity to shape a tolerant society," she said.
The Patron of Students with Disabilities, Prof. Peter Bukhala noted that engaging students in sports are hampered by a lack of appropriate facilities and equipment. Prof. Bukhala requested the sponsors of the event to continue supporting even through donations of equipment.
"As the patron, it is my role to bring together students with disabilities, mentor, advocate for their rights, and organize events that they can participate in for visibility. It is my pleasure to be part of this event," he said.
---
One of the event coordinators, Mr. Victor Ashiali addressing participants.
---
This rare event brought together various teams from the region including MMUST, Shamberere Training Institute, Matili Training Institute, and Sigalagala Training Institute. The teams showcased talents in Sitting Volleyball, Deaf Volleyball, Amputee Football, Fashion Show, Singing, and Poetry. UHAI Festival Western Region was sponsored by MMUST, Yasena Foundation Limited, The African Medical, and Research Foundation (AMREF), Dura Coat, Barasa Foundation, Signs TV & Machawood as well as Carrier Neutral Data Centers (icolo.io).
The event coordinators included Ms. Linet Owuor, Mr. Bonface Manoah, Mr. Victor Ashiali, Ms. Lilian Kundu, Ms. Selphine Muyonga, Ms. Vilda Atieno, Mr. John Asila, and Mr. Daniel Korir.
MMUST has set the pace in propagating Social and Talent development of Persons with Disabilities as a way of eliminating stigma and discrimination. It is apparent that PWDs are facing serious challenges that require far-reaching interventions. Such activities attempt to alleviate some of these challenges by offering a platform that not only celebrates people with disabilities but also offers them inclusion and visibility through sports.
---
By Linet Owuor
Photos by Wilberforce Shiundu