The MMUST Choir which soared our flag higher also showcased incredible performances which attracted awards in Communications Authority, Police Service, Big Four Agenda (Set-Piece), and Tourism Board classes where they became position one. This took place during the weeklong National Music Festival held between 17 -25 September 2022 in Kisumu City.
---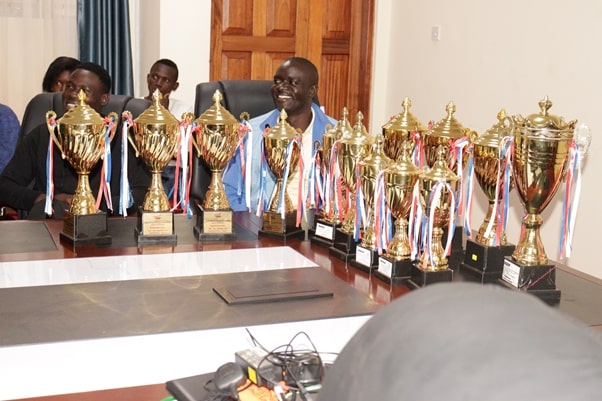 Kenya Universities Sports Federation (KUSF) and Kenya Universities Sports Association (KUSA) awards.
---
The awards were presented to the Vice Chancellor, Prof. Solomon Shibairo and the University Management led by the Dean of students, Dr. Bernadette Abwao, alongside the Games Tutor, Mr. Geoffrey Barasa as well as respective team captains.
Speaking during the award presentation ceremony, the Vice Chancellor congratulated the teams for their good performance stating that the University Management is dedicated to supporting them.
"As a University, we are keen to nurture talents. We have done this through talent scholarship program which has motivated a number of students to pursue their talents. I want to assure you that we shall look into the challenges you have raised to ensure you continue excelling," said Prof. Shibairo.
---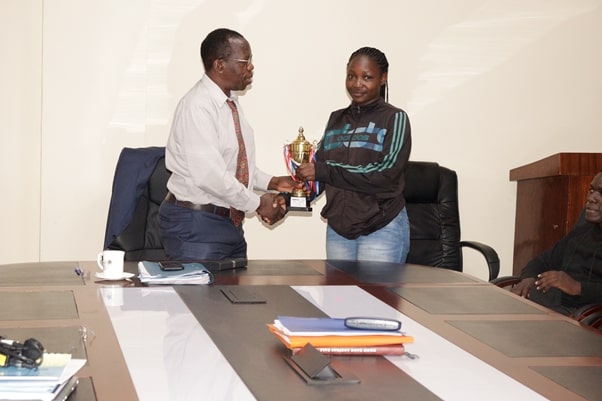 Vice Chancellor receiving a trophy from Netball captain.
---
Reiterating the Vice Chancellor, the Deputy Vice-Chancellor, Planning Research and Innovation, Prof. Charles Mutai. Prof. Mutai commended the teams' outstanding performance. He encouraged them to keep up the efforts and train harder for the next seasons.
"Taking part in such activities gives the University a marketing platform. I encourage you to keep up with the exemplary performance to earn global recognition," Prof. Mutai said.
---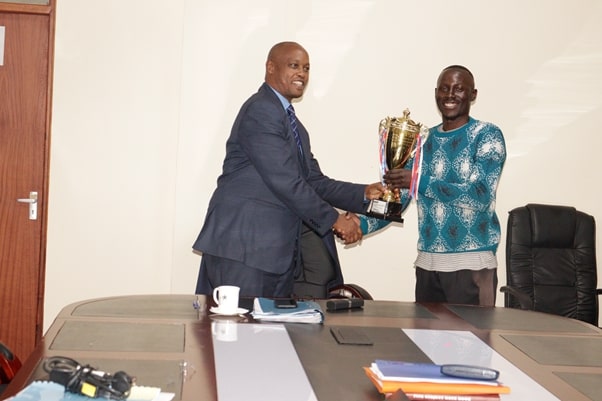 Deputy Vice Chancellor, Planning Research and Innovation, receiving a trophy from one of the captains
---
The Dean of Students, Dr. Bernadette Abwao appreciated the University management for the support they have accorded to the sports department. "We are delighted to have become champions during the National Music Festival and bringing home several awards for different categories we participated in. We look forward to winning more championships," she said.
---
The Dean of students Dr. Bernadette Abwao giving an address during the ceremony.
---
Notably, the Games Tutor, Mr. Geoffrey Barasa emphasized the need for setting up playgrounds for various teams, increasing the number of the sports staff, and boostingthe budget for East Africa University Games to enable us to present a bigger representation in these upcoming games that will be held in Uganda from 16th to 22nd December 2022. Additionally, he proposed completion of the upgrading of grounds near the Bukhungu stadium and leveling of the soil next to the TVET building under construction.
---
Prof. Josephine Ngaira receives a pair of jersey donated to the team.
---
MMUST participated in various games including, Netball, Hockey, Handball, Basketball, Badminton, Darts, and Athletics men and women. Their performances are summarized as follows;
KUSF National Ball Games Play-offs At Taita Taveta University On 1st-4th April 2022
EVENT

VENUE

SPORT

POSITION

KUSF National Play-offs
(1st - 4th April 2022)

Tita Taveta University

Hockey Women

One(1)

Handball Women

One(1)

Handball Men

Two(2)

Netball Men

Two(2)

Netball Women

Two(2)

MMUST Was Position Two Overall After Kenyatta University
KUSA Western Conference Games At Kisii University 24th To 25th September 2022
Event

Venue

Sport

Position

KUSA Western Conference Games
(24th - 25th April 2022)

Kisii University

Overall Women

ONE(1)

Overall Men

ONE(1)

Basketball 3X3 Men

ONE(1)

Basketaball 3X3 women

ONE(1)

Badminton Women

ONE(1)

Darts Women

ONE(1)

Darts Men

TWO(2)

Badminton Men

THREE(3)

MMUST Won the Overall Title
The MMUST Soccer Men, Rugby Women, and Wood Ball teams received a donation of jerseys from Kakamega County, the County government of Nairobi, and the Kenya Wood Ball Federation respectively.
---
By Linet Owuor