Presiding over the workshop, the Director, the Privately Sponsored Students Program (PSSP), , who was representing the DVC, Planning Research and Innovation, noted that Biophysics is key in scientific research and should be taken seriously. He encouraged members to engage in different Biophysical activities for growth in research.
"Biophysics comes with various benefits, especially to those who are undertaking science and our researchers should not forget this area. Let us register as members of Kenya Biophysics Chapter and change the world together," urged Prof. Alala.
---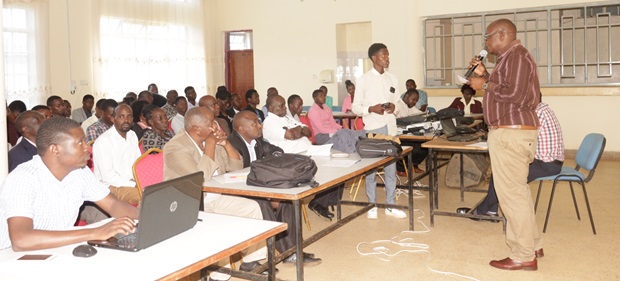 Prof. Alala addressing participants during the workshop.
---
Making a presentation on Advocacy and Sensitization of Biophysics, MMUST's Professor of Aquatic Ecology at the Department of Biological Sciences, Prof. William Shivoga pointed out that Public Health and Medical professionals should target Biophysics to have Clinical Biophysicists. He added that the MMUST Chapter of Biophysics should be strengthened by increasing the number of registered members.
"MMUST should utilize this opportunity to attract as many members as possible while at the same time carrying out as many activities as possible. We have what it takes to take Biophysics to a higher level," stated Prof. Shivoga.
Further, he revealed that Biophysics seeks to change the world and its application in biomedicine using nanotechnology has been at the forefront of a cancer diagnosis. He emphasized that Biophysics is important to society in developing and implementing new techniques to solve problems affecting humanity. Prof. Shivoga highlighted that Biophysics comes with various careers including; forensic science, medical science, clinical biophysics, and research. Its practical aspect will boost CBC as it helps in reasoning.
---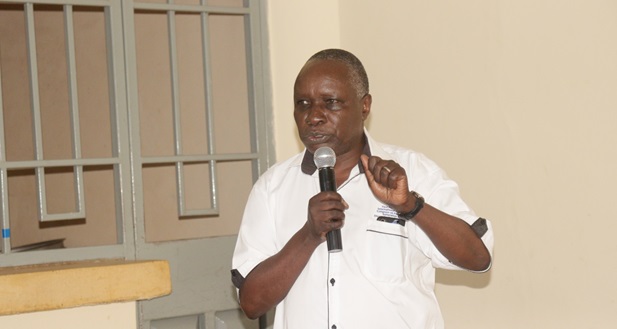 Prof. Shivoga explaining a point.
---
The International Union for Pure and Applied Biophysics (IUPAB) President-Elect, Biochemistry Department, Oxford University, UK, Prof. Anthony Watts during his presentation on 'What Biophysics Has Done', acknowledged that Biophysics is important to the nations and has done more good than harm. "Thank you for supporting IUPAB. We have hands-on training programs for young scientists. Biophysics started long ago, we should work together and leave behind a legacy," he said. He hinted that the University supports Biophysics and other sciences and urged the participants to embrace sciences.
Thanking MMUST for organizing such a noble event, the Professor from Tehran University of Medical Sciences (TUMS) Department of Pharmaco-economics and Pharmaceutical Administration, Prof. Majid Hayati during his presentation 'Nanoscience and Nanotechnology, acknowledged that Nanoscience has been used in Iran as well as other parts of the continent in the areas of medicine, agriculture as well as building and construction. Similarly, Process Engineer, Department of Biomedical Engineering, Huazhong University of Science and Technology, China, Bricard Mbituyimana, stated that Biophysics is a good career that has helped in cancer treatment through photodynamic therapy. The duo reiterated that the African young generation should invest more in the area.
---
The Biophysics Society (BPS) Ambassador Kenya/ Africa, Dr. Philip Amuyunzu and Dr. Sabella Kiprono together with other participants following presentations during the workshop.
---
Speaking during the workshop, Dr. Amuyunzu thanked everyone who participated and urged them to make good use of the knowledge gained from the workshop. "I encourage all the participants to join Biophysics Kenya Chapter in order to secure opportunities for further studies in the field," he stated.
Equally, Dr. Sabella Kiprono, was thrilled by the attendance and encouraged ladies to step up and have the zeal to pursue Biophysics. Dr. Kiprono who is also an academic member of staff at MMUST revealed that Biophysics is an area that all staff should staff and students should pursue, adding that ladies would benefit the most if they became members of the Biophysics Kenya Chapter.
Present during the workshop included: Prof. Gladys Mengich, Prof. Boniface Ndinya Dr. Rapando Wakhu, Dr. Nathan Shaviya, Dr. RW Akelola, Dr. Gitonga Gsiltry, Dr. Silvanus Konyole, Mr. George Sowayi, Jackline Maleche, Eliphalet Otunga, Ms. Sarah Kindiki, Victor Dinda, Samuel Kibaru, Dr. Boniface Ndinya, Tyrus Omondi, Ronald Wamocho, Anne Aswani, Anne Thirika, Peter Nyongesa, and Rebecca Kamuren.
The fact that the Biophysics Society (BPS) Ambassador Kenya/ Africa, Dr. Philip Amuyunzu is a lecturer and researcher at MMUST not only offers the Institution numerous opportunities in the world of Biophysics but also increases the visibility and attractiveness of our University.
---
By Verna Awuor and Brenda Lusaa
Photos by Verna Awuor