Students showcase traditional dance during the Tamasha Cultural Festival 2023.
The Masinde Muliro University of Science and Technology's Tamasha Cultural Festival 2023 has advocated for utilization of cultural heritage strategies to address modern challenges. This is in an effort to achieve sustainable development and create resilient communities. This five-day festival, set to celebrate, enhance and appreciate cultural diversity, was marked with a plethora of musical, dance and food extravaganza. The celebrations, themed 'Leveraging on Culture for Climate Change Mitigation and Sustainable Development,' were held from 8th to 12th February, 2023 at the University grounds.
Speaking during the official opening ceremony, the Vice Chancellor, Prof. Solomon Shibairo, pointed out that the University values cultural diversity, saying that MMUST hosts students from various communities across the nation and beyond. "We are dedicated to promoting indigenous knowledge as well as educating the younger generation about their roots. Tamasha is not only a platform for us to showcase our diverse and positive cultural differences, but also an avenue for the young generation to understand their cultural heritage," said Prof. Shibairo.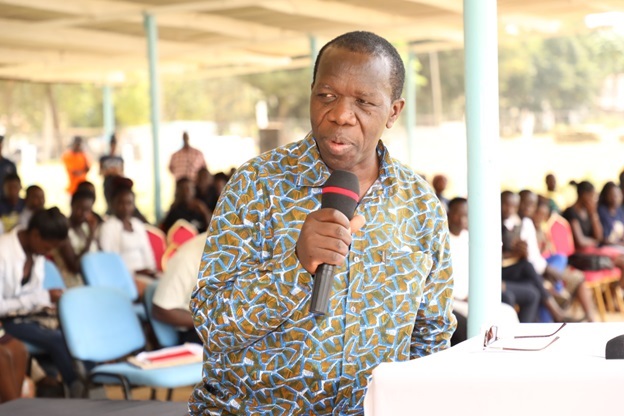 The Vice Chancellor, Prof. Solomon Shibairo speaks during the official opening ceremony of Tamasha Cultural Festival 2023.
Further, he stated that a proper cultural grounding ensures that people embrace positive ethnicity especially in the modern world. "At MMUST, we are cognizant that indigenous knowledge is an important aspect that institutions of higher learning should tap into. This is one of the ways in which we can contribute towards sustainable development goals," he added.
"This festival provides an opportune moment to learn the different cultures, beliefs and indigenous knowledge," stated the Deputy Vice Chancellor (Academic and Students Affairs), Prof. Hussein Golicha. Prof. Golicha mentioned that culture and education are two (2) inseparable parameters and that they are interdependent. "Any educational pattern gets its guidance from the cultural patterns of a society. Indigenous ways of teaching and learning have been viewed by many post-modern scholars as important for ensuring that students and teachers are able to benefit from education in a culturally sensitive manner," said the DVC.
The Director, Privately Sponsored Student Program (PSSP), Prof. Ondiek Alala, who was representing the Deputy Vice Chancellor (Planning, Research and Innovation), Prof. Charles Mutai, said that MMUST researchers are constantly exploring indigenous knowledge in an effort to solve modern societal challenges such as climate change, poverty, inflation, disease and unemployment.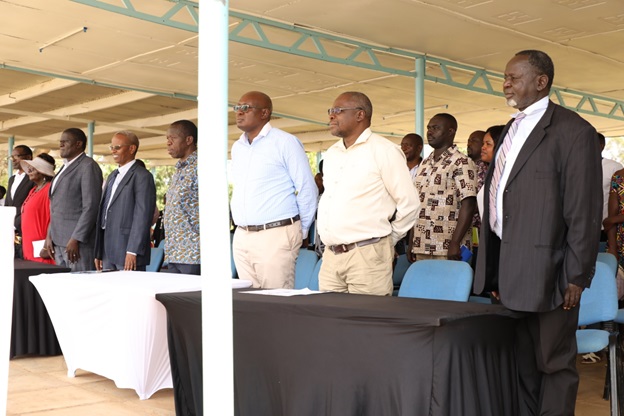 A section of MMUST officials during the official opening ceremony of Tamasha Cultural Festival 2023.
"The Division of Administration and Finance has continuously supported Tamasha as it recognizes the importance of this annual festival. Throughout this festival, we have not only witnessed cultural diversity, but also a display of talent and skills," stated the Director, Performance, Monitoring and Evaluation Unit, Prof. Joseph Nasongo, who was representing the Deputy Vice Chancellor (Administration and Finance), Prof. Kuria Thuo. Prof. Nasongo urged students to get involved in co- curricular activities like creative art, music, dance and poetry to earn extra cash during their stay in the University.
Expressing his delight, the Patron of Tamasha Cultural Festival, Prof. Edwin Wamukoya, applauded various cultural groups for their commitment to ensuring that the event was a success. "I commend all the students and cultural groups that have showcased different activities, for displaying some of the rich cultural practices of our people. Let us take advantage of such festivals to educate others about our traditions and learn from various cultures," he urged.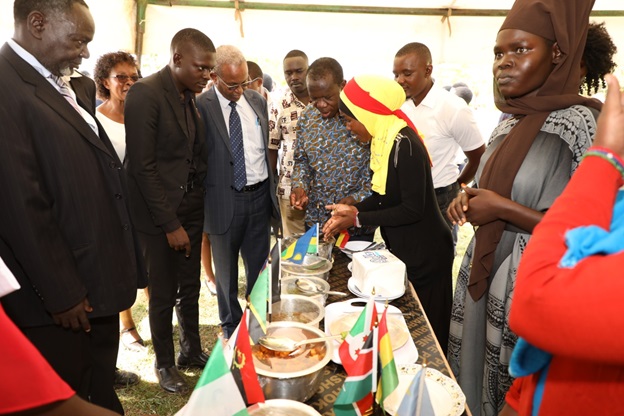 MMUST International students showcase traditional foods during the festival.
Equally, the Dean of Students, Dr. Bernadette Abwao, thanked the University management for its dedication to ensuring that cultural heritage is celebrated in MMUST, adding that there is a need for preserving African culture. "Our culture is beautiful. We need to preserve our diverse culture which has been neglected due to modernity. I encourage you to visit the various sections displayed during these celebrations, and take time to familiarize yourselves with other cultures," said the Dean of Students.
The climax of the event, slated for Saturday, 11th February, 2023, will see students get the opportunity to experience and understand assorted cuisines and art from several cultures. The students will be privileged to witness the crowning of Miss MMUST, Mr. MMUST, Miss Curvy and Mr. Flex, who will embark on representing MMUST's cultural diversity on various occasions. Additionally, the University staff and students will be treated to 'Tamasha Dinner' on Friday, 10th February, 2023.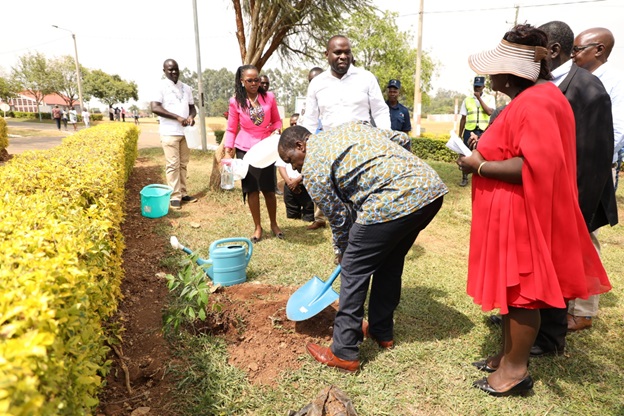 Prof. Shibairo planting a tree to mark this year's Tamasha Festival.
Besides tree planting, the event attracted performances such as music, dance, skits, art, bull fighting, games and sports, as well as exhibitions which were displayed using lavish, stylish instruments and costumes. These were showcased by cultural groups such as the Turkana, Coast, Maasai, Kikuyu, Luo, Kuria, Kisii, Pokot, Luhya, Kamba, Meru and International communities, represented by various student groups. Notably, the festival did not leave behind Karate and Taekwondo teams, which performed exceptional acts for the audience to learn self-defense skills.
Masinde Muliro University of Science and Technology has demonstrated its willingness to steer the agenda of sustainable development through the support of a week-long cultural festival. This is part of what is expected of Universities as custodians of knowledge.
By Verna Awuor and Mary Wangari Wambugu
Photos by Shiundu Masafu