Ms. Irene Otieno during children's stimulation activities.
Physical, emotional, cognitive, language, and social development are vital aspects of human development. As a child goes through various developmental stages, these domains become more skillful. As part of the Health Assessment and Child development monitoring, the IHELP Principal Investigator, Dr. Rose Opiyo, incorporated Health Promotion and Sports Science personnel to conduct Motor Skills Assessment for the children in the centers during the training workshop. This is a key exercise that involves a mixture of physical activities that helps to identify the cause of any motor difficulties and leads to recommendations for support.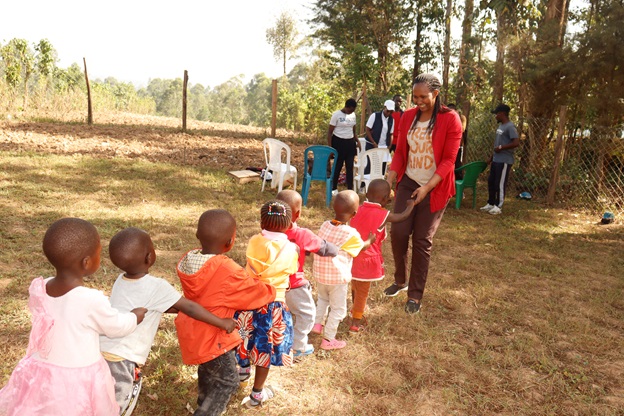 Ms. Ednah Sabin during the Motor Skills Assessment.
According to Ms. Ednah Sabin, a lecturer at the Department of Health Promotion and Sports Science-MMUST, mastery of many motor skills is important for normal daily functions. The five basic motor skills are sitting, standing, walking, running, and jumping. She was accompanied by Health Promotion and Sports Science fourth-year students undertaking a unit in fitness programming. This offered them an opportunity to implement their skills in motor skills assessment for preschoolers to fulfill the curriculum requirement.
The exercise involved the assessment of Gross and Motor Skills through the Test of Gross Motor Development (TGMD), administered to children aged three years and above. For those of three years and below, questionnaires were administered to their parents to report on fine and gross motor skills.
Ms. Ednah Sabin during the Motor Skills Assessment.
Motor development is important to children's health and growth. Early diagnosis is critical to early educational interventions for an effective treatment for mitigating symptoms of Autism Spectrum Disorder (ASD) in children.
By Linet Owuor