Participants pose for a group photo during the first day of the training.
The Masinde Muliro University of Science and Technology's (MMUST) wardens underwent an intensive two-days training on basic counselling skills, during the induction of the newly appointed wardens. The training, which took place on 7th March to 8th March 2023, was graced by the Deputy Vice Chancellor Academic and Student Affairs (DVC-ASA), Prof. Hussein Golicha. Thirty-seven (37) wardens were equipped with basic counselling skills in an effort to enhance their central role of safeguarding and maintaining student welfare in their different areas of residence. The training was organized by the Office of Dean of Students.
Speaking during the event, Prof. Golicha congratulated the newly appointed wardens, stressing that wardenship is a very sensitive position that is key to the overall welfare of students including their academic progress. He urged them to stay vigilant and commit to their mandate of providing regular guidance and mentorship to the students.
"To carry out your mandate with competence, it is crucial that you have a clear understanding of the relevant University policies and procedures focussing on the administration of hostels. These should be communicated clearly to hostel owners and students living in areas under your jurisdiction. Besides this, it is important that you also understand how to handle issues of discipline as well as emergencies in the hostels both within and outside the University," said Prof. Golicha.
A section of the participants during the training.
Additionally, Prof. Golicha advised the wardens to build and maintain a positive working relationship with both students and hostel owners, asking them to be accessible and approachable by the students. He challenged them to network with other departments such as the Office of the Dean of Students, Security Department and Health Department.
The Dean of Students, Dr. Benardatte Abwao noted that students face many challenges with regard to their accommodation. She emphasized on the roles of the wardens in the students' residences, saying that they should endeavour to provide a considerate and attentive pastoral care to the students.
The Chairman Wardens, Dr. Dennis Omaiyo commended the University management and the Office of Dean of Students for the training, stating that wardens are involved to a larger extent in shaping the campus life experience of the students.
"This training will help enhance our effectiveness as we handle the daily issues our students face," stated Dr. Omaiyo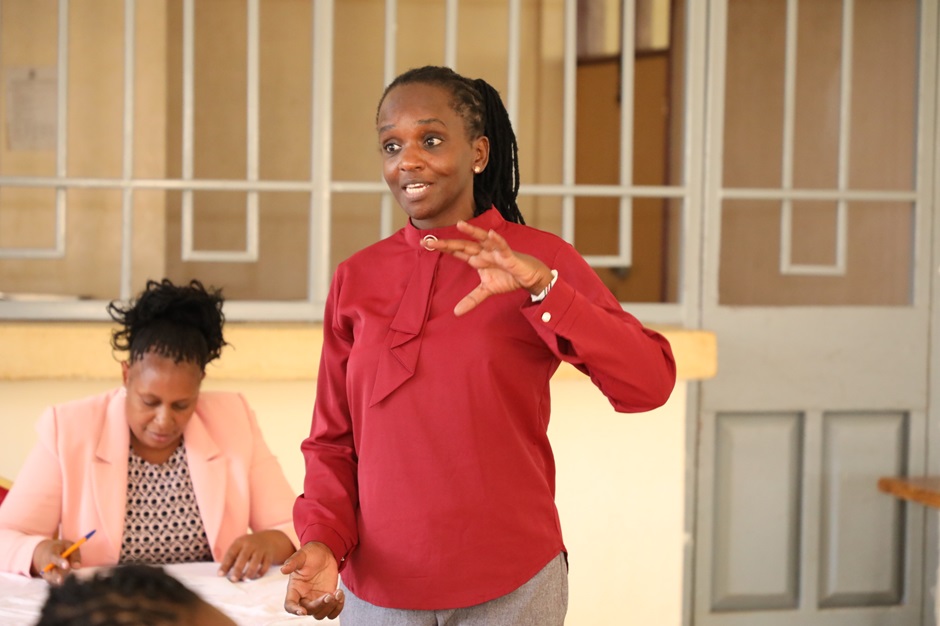 Ms. Pauline Adhiambo, the Acting Head of Guidance and Counselling at MMUST making a presentation during the training.
It is worth noting that the training involved a number of presentations including 'Common Challenges Faced by University Students with Regard to Accommodation'- Dr. Rose Opiyo; 'Basic Counselling Skills'- Ms. Pauline Adhiambo; 'Alcohol and Drug Abuse Interventions in MMUST'- Dr. Dennis Omaiyo; 'Role of Wardens in the Provision of Efficient Accommodation Services to Students'- Dr. Noel Malanda; 'Recognize and Respond to Potential Security Threats in Students Accommodation'- Dr. Julius Mabia and 'Conflict Resolution Strategies'- Ms. Linda Omenya.
Research indicates that it is the primary responsibility of any institution to ensure that systems and work force are in place to promote and support the wellbeing of students when at school or involved in school activities. It is also no secret that learning and wellbeing are inseparable as students learn best when their wellbeing is optimised. We commend MMUST for demonstrating an explicit commitment to the wellbeing of its students.
By Caren Nekesa
Photos by Masafu Shiundu