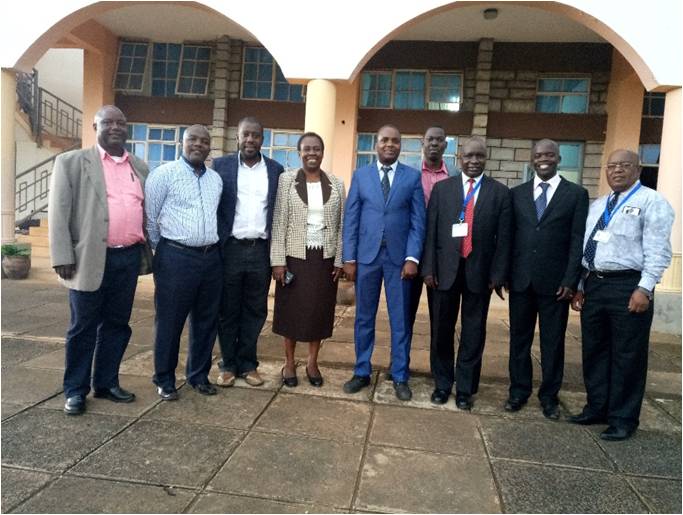 African Development Bank (AfDB) representative, Dr. Emmanuel Musyoka, visited MMUST as a potential host for the premier editions of the Africa-Wide Innovation and ICT Center of Excellence initiative. Dr. Musyoka, a Sustainability Specialist in the Education, Human Capital and Employment Division of AfDB, was on the mission to prepare African youth for the Fourth Industrial Revolution by imparting digital skills through Information and Communication Technology (ICT) trainings. This would be achieved through partnerships between AfDB and universities in actualizing the 'Jobs for the Youth in Africa (JfYA) ICT and Innovation Centers of Excellence Initiative'.
Dr. Musyoka highlighted the need to strengthen TVET institutions that are drivers of skilled labour and employment for majority of African youth, especially in the production of 'Africa's generation of digitally enabled workforce'. MMUST being a TVET institution has been well prepared through academics, research and innovation activities in the School of Computing and Informatics (SCI). Previously, AfDB provided MMUST with modern equipment for Science, Technology and Engineering, including the rare Nuclear Magnetic Resonance spectroscopy machine (NMR).
MMUST was represented by Deputy Vice Chancellor for Planning, Research and Innovation, Prof. William Shivoga, the Director Science Park Innovation and Incubation Centre, Dr. John Muoma, Dean SCI, Dr. Kelvin Omieno, Dean School of Agriculture, Veterinary Sciences and Technology, Prof. Hassan Were, Dean School of Engineering and Built Environment, Bernadette Sabuni, Director TVET, Dr. Samuel Waweru, Director ICT Services, Mr. Apollo Waliaro, Director Corporate Communications and Marketing, Dr. Dennis Ochieno, and the Marketing Coordinator, Mr. Meshack Nyambane.