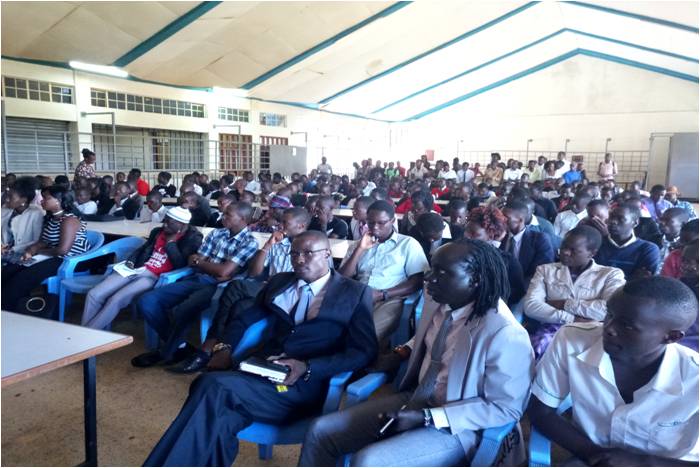 MMUSO Electoral Commission held a sensitization meeting on 11th June 2018, ahead of the much anticipated 2nd MMUSO Parliamentary and Students Executive Council elections scheduled for 15th and 18th June 2018. The meeting comprised of all the candidates together with their agents.
While addressing the meeting, MEC Chairman Dr. Judah Ndiku pressed that the commission is non-partisan and ready to run the elections as per the rules set by MMUSO Constitution (2017), Rules and Regulations Governing Students Behavior at the University (2008) and the Kenyan Constitution (2010). He further applauded all students for having embraced the changes occasioned by the Universities Act (2012).
Speaking at the same event, MEC Deputy Chairperson and Dean of Students Dr. Bernadette Abwao, urged candidates to take control of their supporters, and avoid use of intoxicants as a way of luring supporters during this campaign period. She also reminded them that the elections schedule will be followed to the letter. Present at the meeting were the Peace Ambassadors Kenya (PAK) and Peace Unit Program (PUP) whose representatives, Mr. M'mbetsa Ngome, urged comrades to maintain peace during this electioneering period, inviting them to the ongoing peace walk at the University ground.
MMUST has been on the forefront in embracing student leaders elections based on amended Universities Act (2016), making it a destination for benchmarking by other universities in Kenya. Thanks to the University Management under the leadership of the able Vice Chancellor Prof. Fred Otieno for creating a peaceful democratic environment.