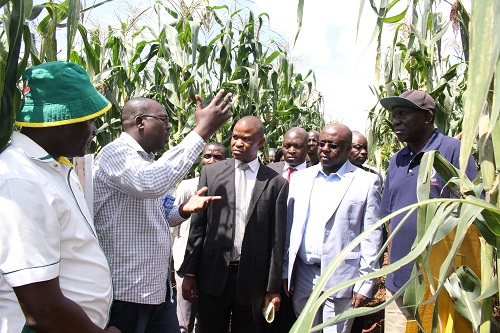 Various Agricultural-based organizations had the opportunity to showcase to the farmers how to do appropriate farming during the farmer's field day that was held at the University Farm on 11th May, 2018.
The Vice Chancellor, Prof. Fred Otieno, gracing the occasion welcomed exhibitors, donors, staff, farmers, other stakeholders and all the participants at the event. He appealed to the farmers to work towards eradicating poverty by producing surplus. He noted that the University intends to host the exhibitions annually and extend participance to the larger Western Region and the Rift Valley Region. He said that the University pledges its support to the County Government and farmers in offering expertise through volunteering and consultancy and emphasized on the need for the farmers to network and share ideas among themselves.
Through a speech read by the Chief Officer, Ministry of Agriculture, Irrigation and Cooperatives, Jeremiah Okello Namunyu, the Deputy Governor Kakamega County, Prof. Philip Museve Kutima urged the University to support the County Government in achieving its goal of sustainable development and food security in the region in line with the government Big Four Agenda. He noted that the Ministry of Agriculture recognizes the role played by the MMUST experts towards promoting Agriculture and urged farmers to adopt appropriate technologies derived from Agricultural Research.
Prof. Hassan Were, the Dean, School of Agriculture and Veterinary Technology (SAVET), noted that this was an opportunity to display to farmers how farming is done. He further noted that a larger percentage of the Kenyan population live in rural areas and largely depend on agriculture as the main economic activity.He therefore called upon the County Government to invest heavily in Agriculture by strengthening Agricultural Research and Investment for enhanced productivity.
Other officials who graced the occasion include: the County Director, Ministry of Agriculture, Mr Johnstone Imbira and the Vice Chair Agriculture Committee Kakamega County, Mr. Paul Ashichi, who noted that The County Government through the Ministry has put in place procedures of reaching the local community and measure to ensure that farmers were enlightened on methods of managing the destructive army worms invasion.