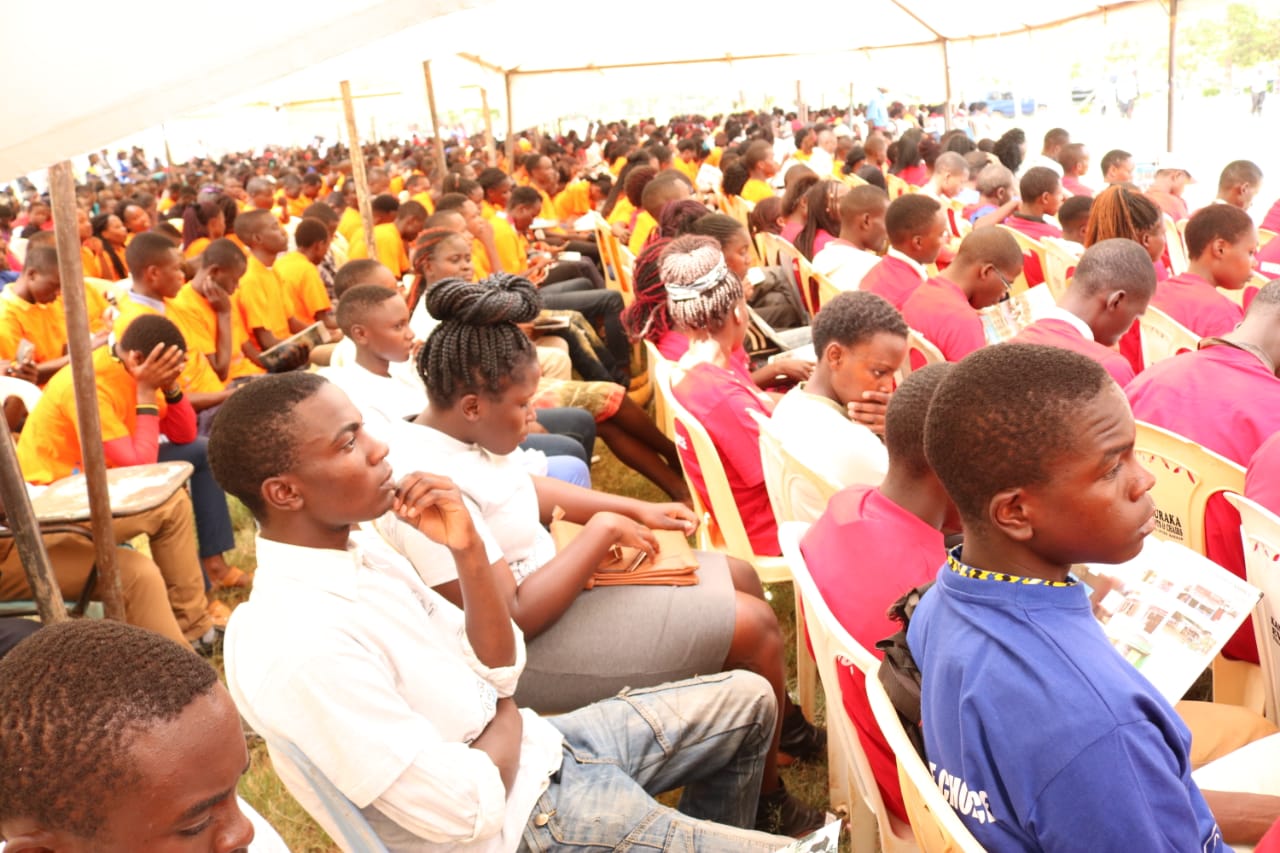 MMUST held a week-long orientation of the newly enrolled first year students to acquaint them with university operations and procedures, from 27th September to 2nd October 2018. At the climax of the event, speakers drawn from the entire academic and non-academic departments, took the freshmen through experiences of an ideal MMUST student as a universal player.
In his address, the Vice Chancellor Prof Eng. Fred Otieno urged the young and energetic students joining MMUST to utilize the opportunity of being in this great university for the betterment of their lives. Prof Otieno advised them to remain focused by engaging in activities that could add value to their wellbeing. He reminded them that they are the custodians of their own destiny after moving away from their parents and teachers. "Being at the university is being in a free environment unlike the secondary schools and parents homes where you have come from. It is left to you to decide on how to organize your time by balancing between academics and social life" he said. Among the over three thousand (3000) students enrolled this year, are the pioneer students of the recently accredited School of Medicine that has greatly raised expectations regionally, nationally and beyond.
MMUST has been steadily growing in provision of excellent university education, training and research, with focus in building a competitive populace through technology and innovation. Students in this university have also excelled in various areas including sports and other extra-curricular activities. Besides, MMUST has been cultivating leadership ideals through Masinde Muliro University Students Organization (MMUSO), whose current President is Mr. Clifton Kisera with his Deputy Ms. Esther Nyaboke, the Secretary General Julius Musau and the Secretary Sports and Entertainment Bahati Mong'are.
The Fresh students will also have opportunities to engage in local tourism by visiting the tropical Kakamega Forest that hosts a variety of rare wildlife such as the Colobus Monkey and the Giant Blue Turaco, while also visiting the famous Crying Stone. Apart from Bullfighting, they will also get opportunities to be entertained by the Isukuti Dance practiced by the local Isukha and Idakho communities, which has been recognized by United Nations Educational, Scientific and Cultural Organisation (UNESCO) as an Endangered Cultural Heritage.The Fresh students will also have a lifetime opportunity to attend the first ever Mashujaa Day celebrations held in Kakamega, which honors all Kenyan Heroes, presided by His Excellency President Uhuru Kenyatta and H.E. Governor Wycliffe Oparanya among other dignitaries, on 20th October 2018, at the modernized Bukhungu Stadium adjacent to the university. President Kenyatta and his Government has been focusing on improving livelihoods and the economy through the Big Four Agenda of Enhancing Manufacturing, Food Security and Nutrition, Universal Health Coverage and Affordable Housing. MMUST through training, research and innovation, is a key institution of higher learning posed to drive this Presidential Big Four Agenda.