MMUST has again asserted its ever-growing performance as a global research hotspot, and a key player in matters concerning Agriculture and Food Security. Our young researcher, Mr. Bonphace Collins Mangeni, won the Most Promising Innovation Award in tackling food insecurity in Africa, during the recent UK-Africa Food Security Symposium that was held at the Sainsbury Laboratory, University of Cambridge, on 11th September 2018.
Featuring the theme 'Developing Effective and Equitable Research Partnerships to address Food Insecurity in Africa', Mangeni won a prize of £500 for his 'One Village One Poultry Vet' project. This project is a socio-economic intensification framework, aimed at increasing indigenous poultry production by smallholder rural farmers for economic and dietary benefits in Kenya.
The symposium brought together participants of diverse backgrounds with research interests in Food Security. The International Center for Tropical Agriculture (CIAT) Regional Director for Africa, Dr Debisi Araba, gave an excellent keynote address that focused on the challenges of Food Security in the continent. Discussions featured research partnerships and food security in Africa, as well as capacity building in African tertiary education institutions.
Mangeni, a PhD student in Crop Protection in the MMUST Department of Biological Sciences, was an awardee of the Norman E. Borlaug Leadership Enhancement in Agriculture Program (Borlaug LEAP) in the year 2014, while pursuing MSc Crop Protection in the same department. This fellowship was through a mentorship partnership between CIAT-Uganda and Michigan State University, USA. Borlaug LEAP fellowship is part of initiatives of Dr. Norman E. Borlaug, a champion of the Green Revolution, who in 1970 was awarded the Nobel Peace Prize for a lifetime of work to feed a hungry world.
As various institutions in Kenya are in the process of implementing the Presidential Big Four Agenda, Mangeni's 'One Village One Poultry Vet' project will be among the most transformative Food Security initiatives that MMUST shall implement. MMUST wishes to see Mangeni grow from a champion of Food Security to a Hero who saves Africa from malnutrition, hunger and starvation, as we remember our National Heroes including the Late Henry Pius Masinde Muliro, during Mashujaa Day celebrations presided by His Exellency President Uhuru Kenyatta, on 20th October 2018, at Bukhungu Stadium in Kakamega.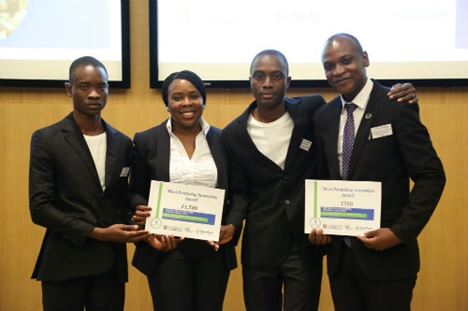 Bonphace-Right (Kenya) with Dedeou 2nd right (Benin), Carlos-Left (Benin) and Carol-2nd left (UK) Winners of the Bioinnovation for Africa Pitching competition winners at the UK-Africa Food Security Symposium
By Shiundu Wilberforce
email:This email address is being protected from spambots. You need JavaScript enabled to view it.