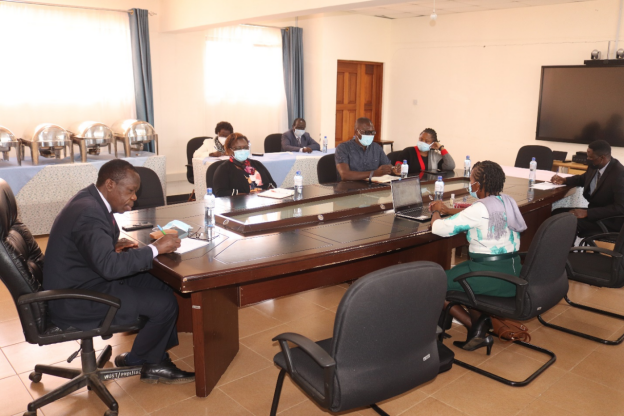 MMUST'S SCHOOL OF NURSING TO RECEIVE FUNDING FROM MALTESER INTERNATIONAL FOR SETTING UP STATE OF ART HIGH FIDELITY SIMULATION SKILLS LABAROTORY
The overall goal of the project is to support the optimization and deployment of these health professionals in Paramedic Science, Nursing, Medicine, other health sciences and in-service health personnel, through curriculum harmonization, policy support, advocacy, training and capacity building.
Speaking during a consultative meeting with the partners, the Ag. Vice Chancellor Prof. Solomon Shibairo said that it is commendable for the implementors of the project focused on improving the curriculum. He added that MMUST has fully embraced the ODeL learning and teaching platform and is in line with the new learner-centered education system. Prof. Shibairo gave assurance of the University Management's support towards the collaboration and the project's action plan. In addition, he encouraged Schools providing health sciences to work together to establish a Science Complex at MMUST. The groundbreaking of the upcoming MMUST's Engineering and TVET Complex will take place soon.
The Dean SONMAPS, Mr. John Arudo, said that the selected health cadres play a crucial role in the health sector, citing paramedic science programme at MMUST, which has gained a lot for recognition in the country and beyond. He expressed his appreciation for the partnership, which will lead to the establishment of a skills lab for development of skills and qualities of students.
Prof. Lt. Col(RTD) John Okoth, said that upgrading students in the school will go through hands-on training, with imminent provision of e-learning for professionals who are already in service and intend to upgrade. He added that the skills laboratory will be multipurpose, catering for students pursuing health related courses in the University.
"I am looking forward to the establishment of the skills laboratory," he said.
Prof. Okoth echoed the importance of EMTs, stating that patients should not be transferred without the help of EMTs.
Senior Lecturer in the School of Public Health, Biomedical Sciences and Technology, Dr. Gladys Mengich and current Coordinator, AIDS Control Gender and Disability Mainstreaming Unit, urged that the practice-oriented teaching ought to be extended to other health related programmes.
The Chairperson of the Department of Paramedical Science/Emergency Medicine at MMUST, Dr. Tecla Sum, explained that the need for the High-Fidelity Simulation Skills Laboratory arose from the urgency to provide a risk-free environment for students to reinforce safe practice, critical thinking, clinical decision making and increase critical competence in nursing and medical care through critical thinking scenarios.
"As Emergency Medical Services personnel, we are obligated to give 100% of our effort during contact with every patient because our responsibility is to increase the patient's chances of survival," said Dr. Sum.
The School of Nursing, Midwifery and Paramedical Sciences has been on the forefront in the fight against COVID-19 in the region and country. Dr. Sum, who is the inventor of a mobile application dubbed 'eKonnect' meant for COVID-19 contact tracing, said that the Emergency Medical Services training at MMUST adopted an "Evidence Based Approach" and applies vocational and academic disciplines that are practiced in a variety of complex situations, across the health -illness continuum.
"I am happy that the partners agreed to support us on this project. We are going to do our very best as an institution to make sure that the project comes to fruition," said Dr. Sum.
Dr. Sum said that the Paramedic Training at MMUST was started based on the gap in emergency medical services at the pre-hospital environment in most parts of the country including Kakamega County and other developing countries in Africa.
The High-Fidelity Simulation Skills Laboratory will cater to the growing number of students taking medical related programs at MMUST, with emphasis on complex selected patient scenarios through the use of simulated situations.
The Project, funded by Malteser International, a worldwide relief agency whose vision is a life in health and dignity for all, is focused on improving the healthcare system in Kenya through provision of specialized training for professionals in different health cadres considered to require strengthening.
The Partnership Project Coordinator- Malteser International, Mr. David Owino, said that the cadres were selected in an inclusive stakeholder forum in January 2018. Citing gaps in policy, bills, curriculum and weak associations, he said that the training of EMTs will be strengthened through e-learning and prospective employers will be engaged to absorb students after graduation.
"We intend to support MMUST in equipping the Skills Laboratory," said Mr. Owino.
The Chairperson, Kenya Council of Emergency Medical Technicians (KCEMT), Ms. Eunice Wanjiku said that EMT professionals can be supported by enrolling at MMUST for career progression.
"I am happy that MMUST already took up the Paramedics Course. To avoid skills decay, we can focus on establishment of the Skills Lab," said Ms. Wanjiku.
The Pioneer Group for Paramedics Science at MMUST graduated in 2020 with a 95% completion rate and a Master's Program in Trauma Paramedicine and Critical Care Paramedicine is being developed. However, graduates face challenges in securing attachment and internship opportunities in renowned organizations that offer specialized training.
According to Ms. Eunice Wanjiku, the partnership will look into licensing for the graduates through formation of an interim licensing board and select a pool of organizations to offer attachment and internship opportunities to the continuing students.
The Health Program Manager, Kenya-Malteser International, Ms. Joy China, said that the organization's UPESI health Project seeks to strengthen emergency training in Kenya, with a focus on pre-hospital care. The partnership with the Department of Paramedical Science at MMUST entailed an assessment of the training scapacity building on skills lab methodology, which will be led by Mr. Peter Nandikove, a lecturer in the School ofkills laboratory, with subsequent human resource support and equipping.
AMREF Health Africa-Institute of Capacity Development (ICD) was represented by the Program Manager, Pre-Service Training & Faculty Development, Dr. Catherine Mwenda and Program Officer, Mr. Bernard Kikechi. Dr. Catherine Mwenda said MMUST will get support in implementation of the project. Mr. Bernard Kikechi led the formation of the workplan, focusing on equipping of the skills laboratory and Nursing, Midwifery and Paramedics Science. Mr. Kikechi emphasized on the need for content digitization and conversion.
According to the action plan, the first batch of equipment is expected by January 2022 and the Memoranda of Understanding between these organizations is set to be signed by August 16, 2021.
---