---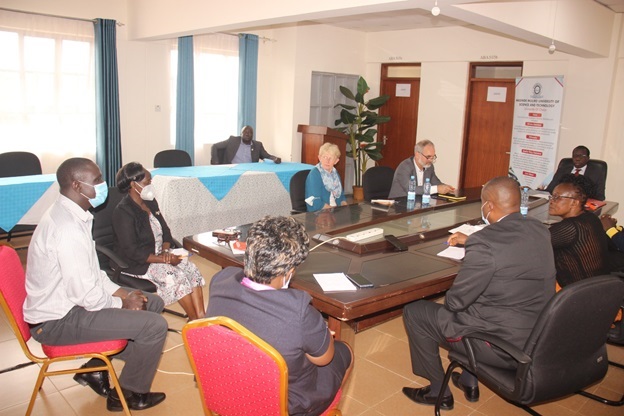 Prof. Francis Orata explains a point during the visit.
---
These activities have previously been happening annually but since the emergence of COVID-19, they came to a halt. The Faculty Manager has since redirected the travel funds to purchase equipment for the University. This informed the team's visit to inspect the equipment purchased and to evaluate how they are being used.
The partnership which began with the School of Agriculture, Veterinary Sciences and Technology (SAVET) has today expanded to five (5) more schools namely; School of Natural Sciences (SONAS), School of Public Health, Biomedical Sciences and Technology, School of Engineering and Built Environment (SEBE), School of Education (SEDU).
The team leader, Prof. Dr. Dietmar Wikarski is a keynote speaker in the ongoing STEMEIC conference of which Brandenburg University of Applied Sciences (BUAS) -Germany is a co-sponsor and MMUST is the host.
Besides the Vice Chancellor Prof. Solomon Shibairo, other notable members present during the meeting were, the Deputy Vice Chancellor Planning, Research and Innovation, Prof. Charles Mutai, Registrar Planning Research and Innovation, Prof. Alice Ndiema, Director AIDs Control, Gender and Disability Mainstreaming Unit, Prof. Gladys Mengich, Prof. Francis Orata, Director DIAL Dr. Catherine Aurah and Dr. Vitalis Ogemah.
By: Charity Idaya, Caren Mutoro and Linet Owuor