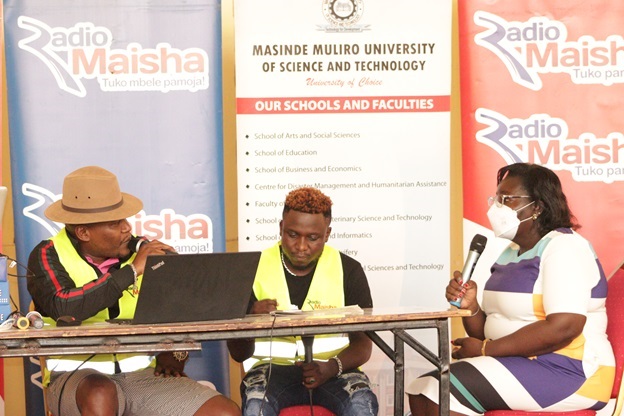 Radio Maisha presenters Emmanuel Mwashumbe and Shugaboy interviewing MMUST Dean of students Dr. Bernadette Abwao
---
The exciting show was graced by the Dean of students Dr. Bernadette Abwao who appreciated the Standard Media Group for choosing MMUST. Speaking during a live interview with the Radio Maisha presenters, Dr. Abwao pointed out MMUST's unique programs such as Optometry that has attracted more students to the institution.
"Despite the large number of students at MMUST, my office ensures equal ethnic representation in our student leadership," she added.
The student leadership was also incorporated into the show, and they were represented by the MMUSO Vice President, Ms. Nancy Mwendwa, Academic Secretary, Ms. Tevivona Ayien, Treasurer, Mr. Gilbert Moriasi and Male Non-Resident Representative, Mr. Ronald Digo. Other students featured were MMUST Rugby Captain, Mr. Kevin Abuga and a number of MMUST's student artists Mr. Salim Khamisi, Mr. Michael Mweu and Mr. Swale Marombotso.
A section of the audience during the 'Maisha Concert Friday' show at MMUST.
---
The Radio Maisha eloquent presenters, Mr. Emmanuel Mwashumbe and Shugaboy noted that they are proud to be able to attract a significant market share of the audience. "We gel, and this is the basis of our strength as presenters of this show. Additionally, the content we offer to our audience has increased our listenership across the country," stated the duo.
'Maisha Concert Friday' has grown overtime to become the 'Number One Breakfast' show in Kenya. The other Radio Maisha members present during the event included Mr. Ken Odero- Producer, Mr. Stanley Ndege- Marketing Department, Mr. Frank Dida- Online Department and Mr. Jack Otieno- Commercial personality.
By Linet Owuor Charity Idaya