The was also part of this launch, which was the culmination of a series of steering group meetings, webinars and research-policy roundtables.
Speaking during the launch, the Vice Chancellor, Prof. Solomon Shibairo, who gave a keynote address in the second session, noted that there are gaps in policies, lack of data and evidence to inform decision makers on appropriate responses to displacement crises especially in Africa. "Our current Strategic Plan and Research Policy have identified Research, Innovation and Extension Services as critical pillars in addressing community challenges. This shall be leveraged on to support this research network," said Prof. Shibairo.
---
MMUST Vice Chancellor giving his keynote address during the launch.
---
Further, he assured the international partners of MMUST's support saying that the University will leverage on its strong linkages with other Universities to back the implementation of this research Agenda. Disaster specialist IGAD, Ms. Lena Brenn, concurred with Prof. Shibairo's sentiments. "IGAD commits to be engaged in the implementation of this research agenda," she stated. It is worth noting that the Vice Chancellor was accompanied by the DVC (Planning, Research and Innovation), Prof. Charles Mutai.
These sentiments were reiterated by other keynote speakers who included; Mr. George Okoth-Obbo (Head of Secretariat, UN Secretary-General's High Level Panel on Internal Displacement), Mr. Kai Gatkuoth (Technical Coordinator for Disaster Risk Reduction, Directorate of Rural Economy and Agriculture, African Union Commission), Mr. Patrick Eba, Deputy Director of the Division of International Protection, UNHCR and Manuel Marques Pereira (Migration, Environment and Climate Change Head of Division-IOM).
The Chair of the research network, Dr. Nicodemus Nyandiko highlighted the key focus areas of the network, namely; supporting and promoting critical independent research on disasters and climate change, promoting collaborations between researchers and policy experts as well as developing capacity and knowledge by African researchers. He explained the structure and activities of the network including the future plans. "As a network, we will come up with enabling policies and frameworks to advance enduring solutions to the problems of displacement and migration occasioned by disasters and climate change," stated Dr. Nyandiko.
---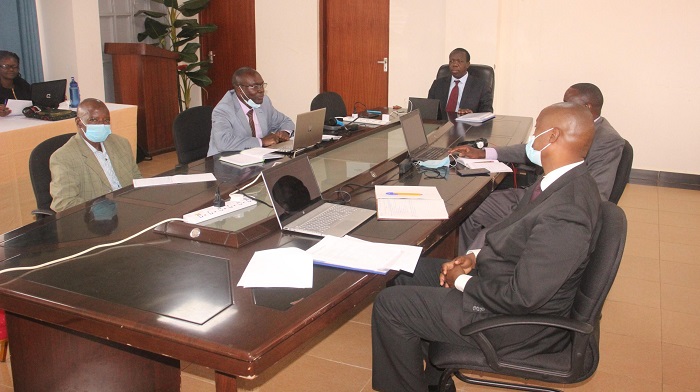 MMUST team participates in the research network's virtual launch.
---
Statistician and member of the network steering group, Dr. Annette Okoth, discussed the criteria joining the network and the benefits that come with such membership. "Membership of the research network is open to researchers and policy experts who are researching or working directly on displacement and migration in the context of disasters and climate change in Africa. It is also open to those researching or working on related fields in Africa (Such as migration, climate change, human rights) and with an interest in researching or working on displacement and migration in the context of disasters and climate change," she said.
This research network will certainly provide a platform for networking and bringing together researchers across the globe to exchange ideas and conduct evidence-based research to mitigate the effects of disasters and climate change.
---