Through this collaboration, the institutions will be able to conduct joint research and grant writing, students and staff exchange programmes, students' capacity building through scholarships, community outreaches and sharing of teaching and learning facilities.The team from KNDI paid a courtesy call to the Vice Chancellor, who was represented by the Deputy Vice Chancellor, Planning Research and Innovation, . Prof. Mutai appreciated the KNDI officials for recognizing MMUST as a viable partner in matters research. He noted that Clinical Nutrition is a niche area for the University.
"We only work with Universities who are compliant with KNDI regulations. We are happy to work with MMUST which is certainly among the few that have complied. By the end of this meeting, I will leave you with a draft copy of the Memorandum of Understanding that will guide our collaboration," said KNDI CEO, Dr. Kokeyo.
Additionally, Prof. Abubakar urged MMUST staff and students present at the meeting to take advantage of the available opportunity and use it to attract mega grants. "I will be happy to meet you at Bayero University in Nigeria for scholarships as well as staff and students exchange programmes," he said.
---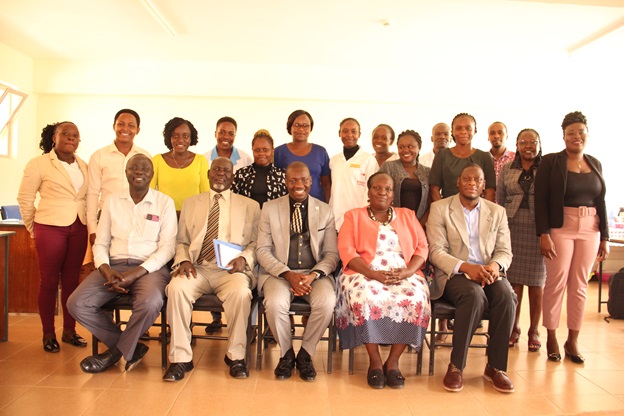 KNDI officials together with the MMUST team.
---
Speaking during a bilateral meeting with the officials, the Dean School of Public Health and Biomedical Sciences and Technology, Prof. Edwin Wamukoya, applauded KNDI for the continuous support they have granted to MMUST. He expressed delight that some of the staff at the regulatory body studied at MMUST and that shows how much the programme is enriched.
The Director, Open Distance and E-learning, Prof. Gordon Nguka who is also a board member at KNDI representing Public and Private Institutions, noted that the collaboration will maintain a good working relationship between the institutions. It will also ensure high quality training of our students and enhance professionalism of students' graduating from MMUST with nutrition related courses. The meeting was also attended by the Chairperson, Nutrition and Dietetics, Dr. Rose Shikuri, Dr. Lucy Mutuli, Mr. Simon Were and interns from KNDI.
---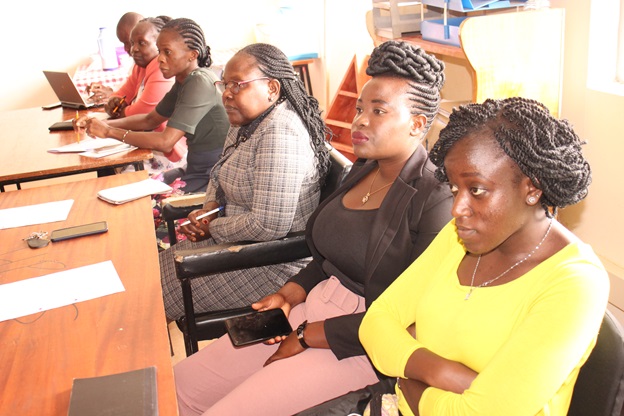 A section of members from the Nutrition Department following the proceedings of the meeting.
---
This collaboration will see MMUST meet its strategic objectives as a University of Science, Technology and Innovation.
---
By Linet Owuor
Photos by Charity Idaya