Speaking during the event, Prof. Thomas Sakwa applauded the leadership of SEBE for organizing a one-of-a-kind activity."I wish to appreciate the School of Engineering and the Built Environment for initiating such a unique activity. I have gained so much from the highly resourced content shared here and I believe such an activity has never happened before in any other school in our University," said Professor Sakwa. He asked the faculty leadership to share a brief through the normal reporting so that they capture it in the University Management Board (UMB) meeting.
Addressing the students, Prof. Sakwa shared some personal, real-life stressful moments during his time as a student. "Stress can always come in but if you know how to manage it, then it can never be an issue. It is also important for you to understand that just because you fail once does not mean you are going to fail at everything. Purpose to learn from your failures and start again," he stated. Further, Prof. Sakwa advised the students to have tactics that will help them in managing stressful situations. He assured them of their value to the University and encouraged them not to wait when they have challenges but follow the required chain of command to have them addressed.
The Dean, SEBE, Prof. Eng. Bernadette W. Sabuni, engaged the students on 'Handling Academic Pressures and Financial Issues'. "As you go higher in your academic journey, pressures will always increase. There is no way out of this, except for accepting and dealing with these pressures as they arise," said Prof. Sabuni. She advised the students to continually do the right thing at the right time, follow the curriculum to the latter in order to avoid stress, respect and duly act on memos from the Office of Registrar Academic Affairs.
"Financial issues affect academics and this is something that needs to be talked about," noted Prof. Sabuni. She spoke about the high drop-out rates witnessed in SEBE, saying that it has been stirred by issues of stress from poor financial management, inability to deal with failure and indulgence in drug abuse. Prof. Sabuni further encouraged the students to speak up when troubled and assured them of her team's commitment to guiding them, to see them come out as responsible individuals.
---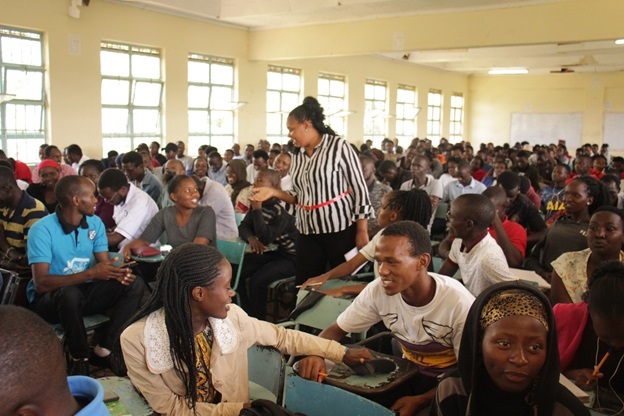 Ms. Jane Muriuki from the Dean of Students office takes participants through a session.
---
Prof. Kenneth Otieno from the Department of Psychology who discussed 'Stress Management and Drug Abuse,' engaged students on key issues including why they indulge in drugs, signs of a drug user, stress, symptoms of stress and stress management. "Engineers are often so confined to their work and academics that social relations become a huge problem," said Prof. Otieno.
He urged the students to make personal timetables to facilitate their studying, avoid procrastination, develop the power of positive thinking and accept that they are stressed.
Present during the event were: The Chairman of Department (C.O.D) Civil and Structural Engineering Department, Dr. Micah Mukungu Mukolwe, C.O.D Mechanical and Industrial Engineering Department, Dr. Peter Cherop, C.O.D Electrical and Communications Engineering Department, Dr. James Owuor, Dr. Edwin Kanda, Ms. Janet Oyaro, Ms. Jane Muriuki from the Office of Dean of Students, Mr. Paul Rotich, Mr. Willis Awandu and Ms. Judith Dipondo.
---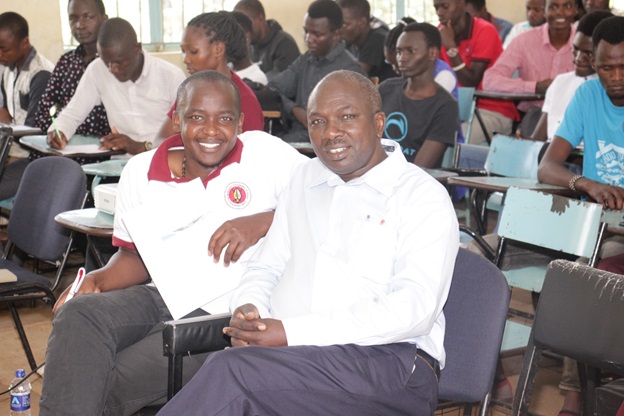 Lecturers from SEBE, Mr. Willis Awandu (left) and Mr. Paul Rotich keenly following the presentations.
---
Research confirms academic stress and drug abuse are key factors that inhibit the psychological well-being of University students. Additionally, course load such as that of an engineering student can be overwhelming and can cause students to burn out from the feeling of being overworked and stressed. It is important that the University 'walks' with the students and continuously offers guidance and mentorship that will support them to keep their lives balanced between school and social life. They should also be constantly reminded to effectively use their free time, set aside time for themselves to enjoy everything that campus life has to offer and above all, set their priorities right and stick to them.
---
Story by Caren Mutoro
Photos by Wilberforce Shiundu