Mr. Brown Makotsi of East Africa Development Consultants, also one of the panelists at MMUST's 15th Multidisciplinary Virtual Conference, delved into ''
"The Western Region provides an ideal climate for growing coffee," he said.
As a keen coffee farmer in Kakamega County, Mr. Brown challenged MMUST and other institutions of higher learning to act as linkages for small scale farmers to the County Governments. Additionally, he urged researchers to conduct research at community level and not confine themselves in their respective institutions. He encouraged farmers in the Western Region to venture into coffee farming as opposed to solely relying on maize. In a bid to boost coffee production in Kenya, one of the initiatives is to involve youth, women groups and Community Based Organizations (CBO)under a Public Private Partnership (PPP) to receive direct funding and capacity building in nursery operations.
---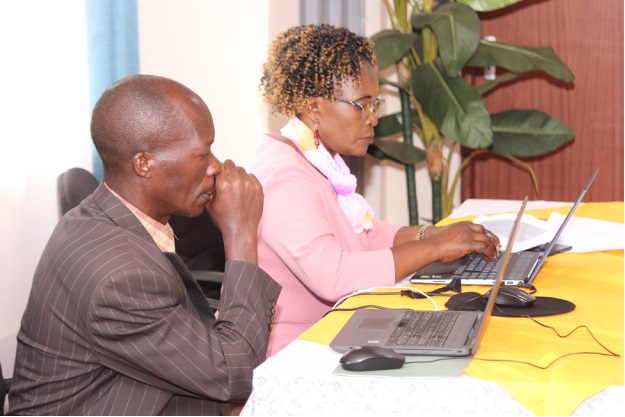 Associate Professor from Kenyatta University, Prof. Fuchaka Waswa and MMUST's Dr. Catherine Aura engrossed in the exciting conference
---
The issue of 'Land Use Planning for Enhanced Food Sovereignty and Environmental Health' was extensively discussed by Associate Professor from Kenyatta University, Prof. Fuchaka Waswa. He pointed out that land is a an important environmental component upon which food security is supposed to emerge. He said that increase in population is exerting high pressure on already scarce land, hence the need to put much idle land into agricultural use based on the model of national and county green belts, instead of putting up concrete structures.
"We are better off growing our own food as a country," said Prof.Waswa.
The Agri- environmental Scientist said that there should be transformative leadership in Agriculture. He added that people with the right academic and professional qualifications, ethics and passion should be deployed to drive decision making around sustainable land use planning and food sovereignty. In addition, Prof.Waswa said that farmers are not being advised on Land Use Planning. He encouraged incentivization of famers through deliberate efforts to protect domestic production and markets.
---
Prof. Peter Bukhala speaks during the conference opening.
---