Speaking during the event, Deputy Vice Chancellor (Administration and Finance), Prof. John Kuria Thuo, who was standing in for the Vice Chancellor, Prof. Solomon Shibairo, appreciated MI and other German partners for their involvement in equipping the skills lab. "I am grateful that MMUST has such befitting partners. As an institution, we are eager to collaborate with you in future projects, and to prudently utilize any resources that will be allocated to us through the ," said Prof. Thuo.
---
Deputy Vice Chancellor (Administration and Finance), Prof. John Kuria Thuo,
---
Prof. Thuo pointed out that there is an urgent need to adjust MMUST programmes in terms of skill sets. "With this project, the University has real potential to enhance skill sets at Kakamega County General Teaching and Referral Hospital, as well as the community at large," he stated, adding that the University Management will support this project.
According to the health program Manager, MI Kenya, Ms. Joy China, Upesi Health Project is funded by the German Federal Ministry of Economic Cooperation and Development, in conjunction with the Ministry of Health, through MI. "This project involves Kenya and Uganda, and it strives towards ensuring that emergency responses are carried out effectively," said Ms. China.
Further, she stated that the purpose of the MI-MMUST meeting was to concretize key areas of operation to move the collaboration forward. "MI is currently supporting two institutions in Kenya. These are Machakos Level 5 Hospital and MMUST. At the moment, we are refurbishing the MMUST skills lab and identifying high priority needs in training. MI will also fund the consumables that will be used in the skills lab" she stated.
---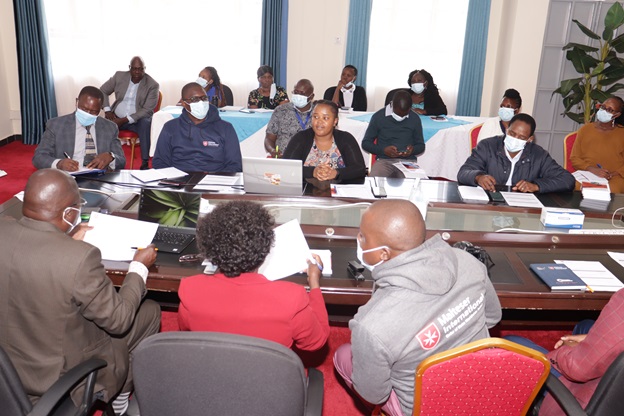 Some of the action during the MMUST-MI meeting.
---
Multi-Stakeholder Partnership (MSP) Consortium Program Coordinator, Mr. David Owino, mentioned that MI has a five-year Memorandum of Understanding (MoU) with MMUST. "Malteser International is committed to improving emergency medical services and ambulance services in Kenya and Uganda. Hence, we partner with training institutions, such as MMUST, as well as health facilities to achieve this," he said.
The MSP consortium is made up of Malteser International, AMREF Health Africa, Kenya Healthcare Federation and Unitely. Its aim is to enhance the training and deployment of Unregulated Healthcare Professionals.
During the event, Mr. Charles O. Aywak, a lecturer at Kabarak University's Department of Nursing, gave a presentation of the Assessment of Capacity and Training Needs/Renovation of the MMUST-SONMAPS Skills Lab. Mr. Aywak's team members on this study were; Desmond Omondi, Hesborn Odago and Mark L. Ngui. "One of the things we looked at was the MMUST training needs and capacity gaps. MMUST needs a skills lab with simulation facilities and equipment specifically for paramedic training," said Mr. Aywak.
"A paramedic officer is the gap between a patient and a doctor. Emergency Medical Services (EMS) system is almost non-existent in Kenya. We need to start training staff on EMS, and to produce skilled students to handle patients properly," said Prof. Lt. Col (RTD) John Okoth. He said that the skills lab is therefore a timely project to bridge this gap.
---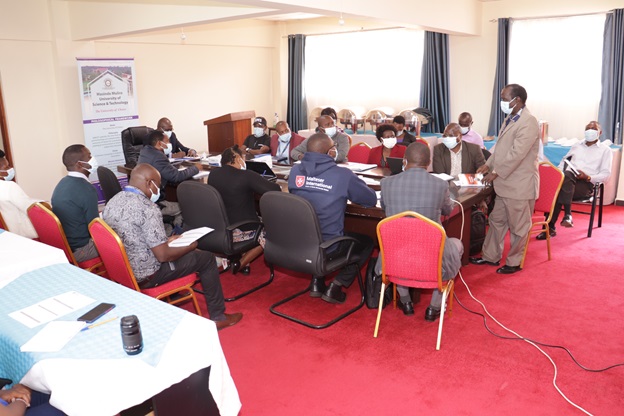 Prof. Lt. Col (RTD) John Okoth (standing) explains a point.
---
Mr. Dennis Muthigi, a specialist in EMS, echoed that Emergency Medical Technicians (EMTs) and paramedics make critical decisions about patients. "We need to equip staff and students with skills that are standard all over the world. Through this project, we have the opportunity to place Kenya among the top three countries producing the best paramedics in Africa," said Mr. Muthigi.
MMUST's Prof. Stanley Omuterema noted that SONMAPS and the School of Public Health, Biomedical Sciences and Technology services are used by the School of Disaster Management and Humanitarian Assistance. Prof. Gladys Mengich reiterated that the skills lab will benefit other programmes including Health Professionals Education (HPE).
The Department of Paramedic Sciences in MMUST offers hospital-based and on-site programs for all levels of pre-hospital, emergency care and interventions. There is no doubt that this skills lab will enhance teaching and learning, and that MMUST is on the right track to producing world class emergency professionals.
---
Photos by Shiundu Masafu Wilberforce