Contact details
Department: Biological Sciences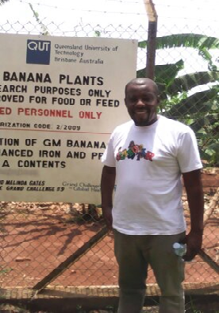 School: School of Natural Sciences MMUST
P.O. Box 190-50100
Kakamega, KENYA
Kakamega-Webuye Road
Office no: SPD 203 Mon 10-12 & Fri 2-5 PM
Email: This email address is being protected from spambots. You need JavaScript enabled to view it.
https://www.scopus.com/authid/detail.uri?authorId=28267896300
https://loop.frontiersin.org/people/447683/overview
https://publons.com/researcher/4005574/john-muoma/
ORCID: https://orcid.org/0000-0002-4525-3840
Web of Science Research ID: ABD-2725-2020
Google Scholar: sTqImoEAAAAJ&hl=en&oi=ao
Prof. John Vincent Omondi Muoma.
Associate Professor of Plant Biotechnology
Director Science Park Innovation and Incubation Center (SPIIC)
Prof John Muoma is an associate Professor of Molecular Biology and Plant Biotechnology. He holds a PhD in Biotechnology from Kenyatta University through a sandwich program between Kenyatta University and Iowa State University funded by the Rockefeller foundation. Professor Muoma is Fulbright fellow an award which was tenured at Wacksman Institute of Microbiology, Rutgers University, US. He has 23 years of teaching experience at the University where he has taught and developed programs in Molecular Biology and Biotechnology and related sciences. He is the program leader in MSc Biotechnology and molecular biology programs and has contributed to the growth of the Biotechnology laboratory in MMUST through a 1 million USD equipment grant for the Department of Biological Sciences. His research work is focused on using modern biology tools in developing new crop management systems to conserve and improve crop production. Prof. Muoma is a TWAS UNESCO fellow working with Center of Genomics Sciences, Cuernavaca, Mexico on how to improve Nitrogen fixation in common Bean varieties grown in Kenya. As a Genetic Engineering working with group of scientist regionally and internationally on molecular platfrom using high-throughtput molecular biology systems to map genes and see on how they can improve plants output. At the University Professor Muoma is the director of the University Science Park Innovation and Incubation Centre (SPIIC) where he coordinates Innovation activities and assist in facilitation of Intellectual Property right Protection. At National level he is reviewer of the National Biosafety Authority dossier.
Some of his key published works include: -