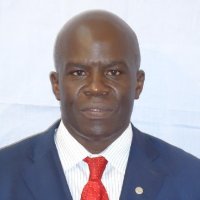 Contact details
Department of Health Promotion and Sport Science
School of of Public Health and Biomedical Sciences (MMUST)
P.O. Box 190-50100
Kakamega, KENYA
Office no. 411
Kakamega-Webuye Road
Email: This email address is being protected from spambots. You need JavaScript enabled to view it.
ResearcherID: AAI-3649-2021
Prof. Peter Wisiuba Bukhala
Prof. Peter Bukhala holds a Master's degree from McGill university- Canada and a PhD in Adapted Physical Activities from Kenyatta University –Kenya. His expertise is in programme planning for inclusive physical activities. He was instrumental in the development of the Camp Shriver sports programmes at Kenyatta University (documented by Reuters and viewed across Africa); that provides inclusive opportunities for youngsters with and without disabilities to interact and acquire sports skills.
Prof. Bukhala is the African representative to the International Federation of Adapted Physical Activity (IFAPA) and was a member of the International Paralympic Committee - Sports Science Committee: 2010-2014 representing the African region. He was also a Eunice Kennedy Shriver Fellow and a member of the Global steering committee for the development of the Special Olympics International Strategic Plan: 2010-2015. He was the host for the 2017 American College of Sports Medicine (ACSM) International Team Physician Course that was held at Masinde Muliro University of Science and Technology (MMUST), Kenya from 15-18th October 2017. Prof. Bukhala teaches disability sports and has supervised and mentored students in sports science at Masters and PhD levels.
Prof. Bukhala is currently the director Privately Sponsered Students Programe and Associate Professor in the Department of Health Promotion and Sports Science (MMUST). In this capacity he has attracted substantial grants to MMUST and developed networks between the community and the University. He is also a visiting Professor at Katholiek University - Leuven, Belgium. Locally, he is a member of the County Government of Kakamega Sports Committee where he chairs the Youth Empowerment Fund. He is also Chair to the Ikolomani Constituency Sports Committee. His current research interest is in the development of programmes targeting community awareness and response to the Covid-19 pandemic.Prof. Bukhala has published over 30 refereed research articles and book chapters in the area of sports. He is widely travelled and has attended many national and International conferences.
Some of his Major publications:
Peter W. Bukhala. Representation of disability in the media: A review of Kenyan newspaper reports of 2015-2016. Published on 4th Novem ber 2022. in Research Journal in Advanced Humanities. DOI: https://doi.org/10.58256/rjah.v3i4.931
Kathure DM, Bukhala PW and SO Konyole. ASSESSMENT OF NUTRITION KNOWLEDGE AND SOURCES OF NUTRITION INFORMATION AMONG MIDDLE- AND LONG-DISTANCE ELITE ATHLETES IN NORTH RIFT REGION OF KENYA. African Journal Food Agriculturee. Nutr. Dev. 2022; 22(5): 20300-20316. DOI: https://doi.org/10.18697/ajfand.110.22445
Vincent O Onywera, Stella K Muthuri, Sylvester Hayker, Lucy-Joy M Wachira, Florence Kyallo, Robert O Mang'eni, Peter Bukhala, Caleb Mireri. Results From Kenya's 2016 Report Card on Physical Activity for Children and Youth.J Phys Act Health. 2016 Nov;13 DOI: https://doi.org/10.1123/jpah.2016-0359
Lucy Amanya Mutuli , Peter Bukhala , Gordon Nguka. Predictability of the Theory of Planned Behavior Constructs in Practice of Physical Activity of Recuperating Alcoholics. International Journal of Sports and Physical Education (IJSPE) Volume 6, Issue 2, PP 1-8 https://www.arcjournals.org/pdfs/ijspe/v6-i2/1.pdf.
Roselyne A Odiango , Peter Bukhala , Gordon Nguka: Gender ratings of social behaviour functioning levels among children with intellectual disability in a sport socialization intervention programme in Kenya.International Journal of Academic Research and Development. Volume 4; Issue 6; Page 39 46. http://www.academicjournal.in/download/2388/4-5-20-795.pdf.
Nguka, G. Unnikrishman, P. Achoka, J. Bukhala, P. Kweyu, I. Health and wellbeing, sustainable development goals (SDG) No. 3 and education for sustainable development (ESD) . J-STEM vol. 8, (1) 182-
MLucy Amanya Mutuli, Peter Bukhala and Gordon Nguka. Factors affecting physical activity of recuperating alcoholics in AsumbiHomabay rehabiliation center, Kenya.Journal of Addiction Therapy and Research.Published: 24 October 2018. DOI: https://dx.doi.org/10.29328/journal.jatr.1001008
Vincent O. Onywera, Stella K. Muthuri, Sylvester Hayker, Lucy-Joy M. Wachira, Florence Kyallo, Robert O. Mang'eni, Peter Bukhala, and Caleb Mireri. Results From Kenya's 2016 Report Card on Physical Activity for Children and Youth. Journal of physical Activity and Health, 2016, 13 (Suppl 2), S195 - S200. DOI: http://dx.doi.org/10.1123/jpah.2016-0359
David Legg, Colin Higgs, Osnat Fliess Douer, Peter Bukhala, Aurelie PankowiakA Framework for Understanding Barriers to Participation in Sport for Persons with Disability.(2022) PALAESTRA. https://js.sagamorepub.com/palaestra/article/view/11563
Research and Innovation Projects.
International Engagements.