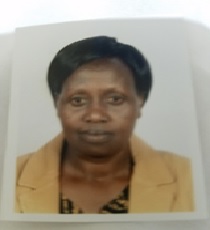 Contact details
Department of Health Professions Education
School of Public Health, Biomedical Sciences and Technology
P.O. Box 190-50100
Kakamega, KENYA
Office no. ABA Room 102 or ACGDMU Office
Kakamega-Webuye Road
Email: This email address is being protected from spambots. You need JavaScript enabled to view it.
ORCID: https://orcid.org/0000-0003-3966-5854
Dr. Gladys Jepkorir Mengich
Dr Gladys Mengich is a Physiotherapist and holds Doctorate degree in Medical Education specializing in training medical educators in the areas of teaching and learning, curriculum development, assessment and evaluation, critical thinking and intellectual skills, instructional media and clinical skills laboratory methodology. Her areas of academic and research interest are in the fields of Physiotherapy, Health Professions ( Medical) Education and Capacity Building. Her major role in scholarly contribution use of innovations and capacity building of health professionals. She was MMUST Focal person for FUNZOKenya Project (2012- 2016) & Lead Coordinator (2016 2021). Her main activities were capacity building of health professionals and strengthening health systems in Western region of Kenya. Formerly was a senior lecturer in Kenya Medical Training College ( 1989-2010)Her contributions were development and implementation of competence –Based Curriculum, Skills laboratory methodology and development of instructional materials ( OSCE Video). In MMUST, She was the Chairperson of health professions Education Department for two terms ( 2011- 2016) and Dean, School of Public Health Biomedical Sciences and Technology (2017- 2020). Currently, she is the Lead person between Health Professions Education (SPHBST) – THB collaborative research on e-health/telemedicine, gait analysis and practice-oriented teaching projects. She is the Coordinator of AIDS control, Gender, and Disability Mainstreaming Unit and Board Member of Moi- Baringo Teachers Training College.
Some of her key publications:-
Sabella J. Kiprono, Gladys Mengich, Bartholomew N. Ondigo, Charles Mutai and SammyKimoloi. Therapeutic uses of stingless bee honey by traditional medicine practitioners in Baringo County, Kenya.Published on December 2022 in Journal of Pharmacognosy and Phytotherapy. DOI: https://doi.org/10.5897/JPP2022.0618
Sabella J.Kiprono, Gladys Mengich, Jackline Kosgei, Charles Mutai, Sammy Kimoloi. Ethnomedicinal uses of stingless bee honey among native communities of Baringo County, Kenya.Scientific African. Available online 21 July 2022, e01297.In Press, Journal Pre-proof. https://doi.org/10.1016/j.sciaf.2022.e01297
Mengich, G. Boruett, N. (2012) Identifying Competencies for Health Professionals Training in Developing world. LAP LAMBERT Academic Publishing GmbH & Co. KG. ISBN: 978-3-8465-3313-0.

. Mengich, G., Kipmerewo, M.S. and Sowayi, G. ( 2014) ( Paradigm shift in Instructional Strategies in Medical Education', In New Horizons in Pedagogy ( Editors) Kabaji E, Simala, I and Nasongo, J. Directorate of Public Communications and Technology, Masinde Muliro University of Science and technology. ISBN:978-9966-1727-1-6.

Nyabate,J.O., Chemjor, H. and Mengich G. (2019) Role of Mentorship During Clinical Teaching at Medical training Colleges in Kakamega County . IOSR-JNHS, Journal of Nursing and Health Sciences Vol. 8. No. 5, pp 70-77.
Ogot, J. O, Mengich, G. and Chepkeitany H.C. (2018) A Study on Utilization of Information and Communication Technology in Teaching and Learning in Medical Training Colleges within Kakamega County. Journal of Research & Method in Education ( IOSR-JRME) ISSN: 2320-737x Vol . No. 8, Issue.