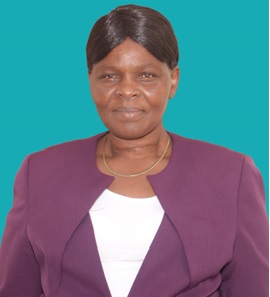 Contact details
Department of Agribusiness Mgt & Extension
School of Agriculture Veterinary Science & Technology (MMUST)
P.O. Box 190-50100
Kakamega, KENYA
Office no. ABA 412
Kakamega-Webuye Road
Email: This email address is being protected from spambots. You need JavaScript enabled to view it.
Links
ORCID:https://orcid.org/0000-0003-4153-5637.
ResearcherID: AEL-8911-2022
Google Scholar: OtntWLgAAAAJ
Prof. Chesambu A. Ndiema
Professor Chesambu Ndiema holds a doctorate degree in Agricultural Extension specializing Technology adoption, monitoring and evalution and participatory research. His areas of academic and research interest are in the fields of gender in agriculture mainstreaming, environmental research and agro-forestry, technology transfer and impact assessment. The major scholarly contribution was in the role promotion of drought tolerant crops in the arid and semiarid lands of Kajiado and Narok of Kenya. Currently serves as the Ag. Registrar in Planning Research and Innovation.
Some of hrs key published works include: -
Ngetich J. K. and Ndiema A. C. (2020) Challenges and opportunities in environmental impact assessment and environmental audit practice in Kenya, Journal of Geography and Regional Planning. Vol. 13(3), pp. 70-76, July-September, 2020. Article Number: FAC261264757 ISSN 2070-1845. DOI: https://doi.org/10.5897/JGRP2019.0753.
Mbakaya G. M., Wandahwa P., Ogemah V. and Ndiema A. C., (2020). Method analysis to social network analysis as an analytical tool for agricultural information sharing among farmers in Western Kenya. International Journal of Science environment and Technology Vol. 9, No 4, 625-637.
Kageha C. O., Ogemah V., and Ndiema A. C. (2019); Access and use of electronic information resource by small holder farmers in Busia County, Research journali's Journal of Agriculture, vol. 6, No. 7, August 2019; published in www.researchjournali.com.
Ojuodhi A.T., Ndiema C. A., and Akwale M. S. (2019); Influence of information access on production and marketing of sweet potato varieties in Kenya: A case of Migori County, Kenya. Journal of Humanities and social sciences. Vol. 24 iss11, series 1 (Noveber 2019) 44-51 e-ISSN: 2279-0837, p-ISSN: 2279-0845. www.iosrjourals.org.
Ndiema A. C., (2019): Institutional factors influencing adoption among farming communities in arid semi-arid lands of Kenya. Journal of Science and Technology Education and Management (J-STEM), Vol. 8 No. 1 June 2019, ISBN 1991.
Kokwon C., Ndiema A. C., and Sumukwo J. (2018); Effects of Gender and food security among rural household in Baringo North Sub-County of Baringo County, African Journal of Education, Science and Technology, Vol4, No.3, June 2018