Once again, MMUST's Prof. Francis Orata Omoto is at the forefront of championing enrolment in chemical sciences careers for students, especially girls, in rural secondary schools of Western Kenya. On Friday, 28th January, 2021, the Professor of Environmental Chemistry and Toxicology extended his Royal Society of Chemistry (RSC) funded project to St. Joseph's Indangalasia Secondary School, Matungu Constituency.
This was during the culmination of 'Chemistry Day' celebrations, an event that attracted about five (5) rural secondary schools in the region.
"This outreach programme is a continuous process. We have been to a number of schools and we plan to visit more in February. We are trying to change students' attitude and mindset towards Chemistry as a subject. Chemistry is very important yet it remains to be one of the most under-performed subjects in Kenya," said Prof. Orata.
---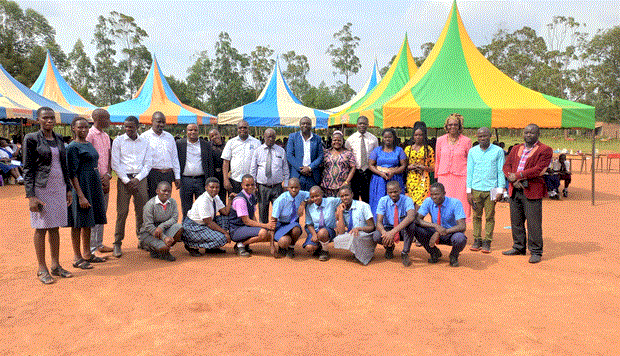 Prof. Orata, MMUST team and a selection of staff and students from participating schools pose for a group photo.
---
Prof. Orata, a prolific researcher and scholar from the Department of Pure and Applied Chemistry, was accompanied by Chemists from the School of Natural Sciences (SONAS), including the Dean, Dr. Joseph Owino, the Chair of African Women in Science and Engineering (AWSE), MMUST-Western Chapter, Dr. Selline Ooko, Patron of MMUST Chemical Society, Dr. Gershom Mutua and some of MMUST's Industrial Chemistry students.
---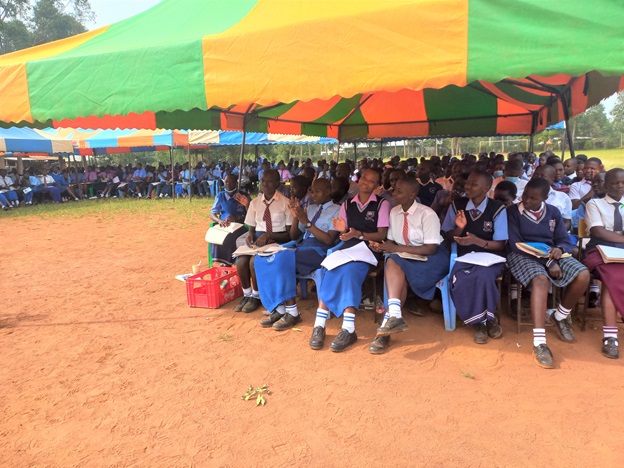 A section of students from the participating schools.
---
Dr. Joseph Owino took the students from secondary schools in the region through the various programmes offered in the four (4) departments of SONAS. In addition, Dr. Selline A. Ooko encouraged them to be relentless in pursuit of their goals, while Dr. Gershom Mutua talked about the careers available in Chemistry, as well as potential employers.
In her presentation, Ms. Sylvia Ajiambo Wandera (One of the MMUST students present), talked about the activities of the MMUST Chemical Society, where she serves as the Vice Chairperson. She said that the Society produces detergents, sanitizers, fabric softeners, toilet cleaners and disinfectants.
Royal Society of Chemistry (RSC), provided chemicals that were used by four (4) of the participating secondary schools for practical sessions during that event.
At the end of the event, Prof. Orata awarded each school lab coats that were branded 'Royal Society of Chemistry', as well as washing soaps from MMUST.
True to its mission, Masinde Muliro University of Science and Technology is certainly integrating Science, Technology and Innovation to impact the lives of students and teachers in the region and beyond.