Stakeholders during the LREB Sugar Conference 2023 at MMUST.
Stakeholders from Counties in the Lake Region Economic Bloc (LREB), and the National Government, have today, 8thSeptember, 2023 converged at Masinde Muliro University of Science and Technology in a bid to revitalize the sugar sector in Kenya. The two-day Conference was organized by LREB, in collaboration with County Governments, the Kenya National Federation of Sugarcane Farmers (KNFSF), the Kenya Association of Sugar Manufacturers (KASM), Research Institutions, as well as other partners. It was flagged off by the Speaker of the National Assembly of Kenya, Rt. Hon. Moses Wetangula.
The Conference was graced by the Governor of Kakamega County-H.E FCPA Fernandes Barasa, the Governor of Kisumu County, and LREB Chair-H.E Prof. Peter Anyang' Nyong'o, LREB Chief Executive Officer-Mr. Victor Nyagaya, Governors and Deputy Governors from LREB Counties, Principal Secretaries, MMUST Chairperson of Council and Vice Chancellor, Members of Parliament, Members of County Assembly, several Heads of Parastatals, as well as sugarcane farmers.
From left; Hon. Ayub Savula, H.E Kenneth Lusaka, H.E Prof. Peter Anyang' Nyong'o, Rt. Hon. Moses Wetangula and H.E FCPA Fernandes Barasa.
"I am sure that this Conference and other efforts from stakeholders will culminate into finding long lasting solutions in the sugar industry. We need to enhance sugarcane farming so as to get our economy in place," said Hon. Wetangula, in his opening remarks. He emphasized the need to bring back the repealed Sugar Act, saying that regulating sugar farming is critical to improving the sector. "I urge all stakeholders to avoid blame games, but instead focus on looking for tangible solutions," he added.
H.E FCPA Fernandes Barasa appreciated the president's commitment to reviving the sugar industry in Kenya. "This Conference is proof of our united front in solving challenges facing the sugar industry. This event was organized to help us come up with radical solutions to these challenges, so that our farmers can start benefiting from this sector again," pointed out the Governor of Kakamega County.
Rt. Hon. Moses Wetangula gives his remarks during the LREB Sugar Conference 2023.
Similarly, the Governor of Kisumu County stated that this Conference should help stakeholders in the sugar industry to develop a clear picture on the way forward. "Reviving the sugar sector is something that has been discussed many times before and therefore we should not reinvent the wheel but reemphasize what has been done," said Prof. Anyang' Nyong'o. Further, he stated that there is a need for an integrated sugar industrial park within LREB.
"MMUST is ready to partner with LREB Counties and the National Government in giving this sector the much-needed transformation," stated the Vice Chancellor, Prof. Solomon Shibairo. Prof. Shibairo went on to say that the University has been actively involved in research in the sugar value chain with focus on quality clean planting materials (seed cane), co-products and by-products in line with the modern circular economy. He added that MMUST is well placed to make use of modern technologies to address challenges facing farmers, including climate smart sugarcane production technologies.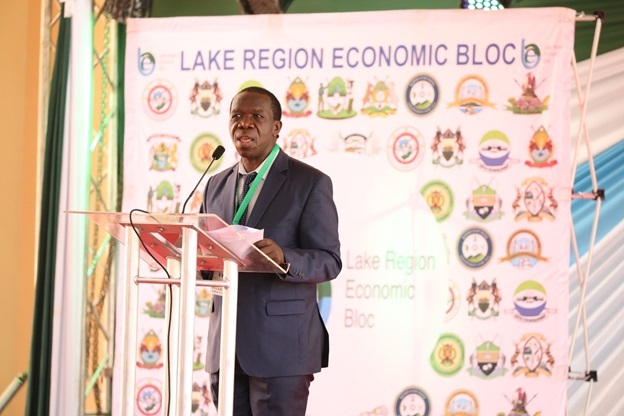 Prof. Solomon Shibairo addresses Conference participants.
On his part, the LREB CEO echoed that this Conference was a platform to make critical decisions as far as the sugar industry is concerned. "Sugar is a key contributor to the economy of Kenya, yet sugarcane farmers remain the poorest in the Country. Let us center our deliberations here today on the farmers' needs," said Mr. Nyagaya.
The Conference, which involves panel discussions featuring different topics, will officially be closed tomorrow, 9thSeptember, 2023, by the Prime Cabinet Secretary, Rt. Hon. Wycliffe Musalia Mudavadi.
Photos by Shiundu Masafu
Sugar Industry Stakeholders Conference in Pictures