The Inclusive Home Based Early Learning Project (IHELP) Principal Investigator, Dr. Rose Opiyo interacts with one child in the program.
The Inclusive Home-Based Early Learning Project (IHELP), has been backed up as a promising community-led innovation by the residents of Ikolomani Sub-County which hosts eight IHELP centers. This project led by the Coordinator, of Strategic Planning, Dr. Rose Opiyo has been embraced by the community who have attested to the great transformation it has impacted in the development of their children as well as their livelihoods.
Speaking to parents with children from the IHELP Centers, they termed the project unique, transformative, and community-oriented since they have been given a chance to participate and own it. They have been empowered with skills in responsive caregiving and income-generation activities. On the other hand, their children who are under 4 years old have acquired a good learning foundation as they transition to primary learning.
Parents engage in making play materials for the learners.
"IHELP has cultivated a positive attitude towards education to our children. From the time I enrolled my child in this project, I have observed a great transformation in him. He has gained communication, social skills and has become more active and well prepared to join the primary education," said Ms. Roselyne Angus, a parent at the Shima IHELP Center.
Echoing her counterpart, Ms. Miriam Masistsa noted that her child who was two years reached certain milestones sooner after joining the center. "My baby learned basic skills such as toilet training, and good feeding habits. He became more independent and learned how to play with others," she added.
Similarly, Ms. Everline Ameda, First Parent (teacher) at Shima IHELP Centre expressed delight at the project for enabling her to achieve her dream of becoming an ECD teacher. She reiterated that she received positive feedback from parents whose children have joined various primary schools from the center. "Children from IHELP centers had an easy transition, they are adaptable and ahead of the rest in terms of learning when join primary schools," she said.
Learning materials prepared by the parents.
According to Shiveye Community, the project has provided their children with the necessary stimulation and support to promote their overall development and prepare them for academic success. To ensure the sustainability and advancement of this project, the community has come up with Vocational Training lessons for parents and a Sacco which promotes savings for their livelihoods. They offer training in Fashion Design, Hairdressing, Beauty Therapy, Plumbing, as well as Masonry.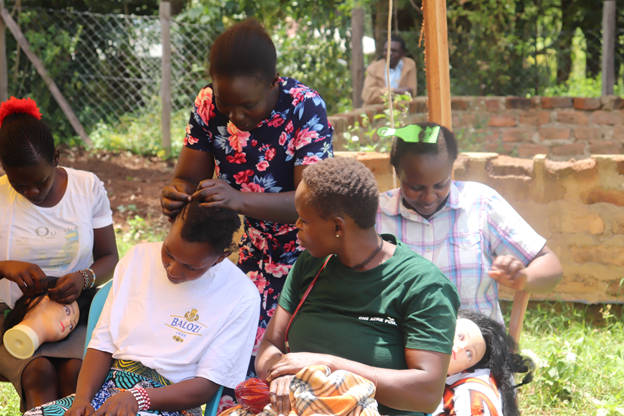 Parents undergoing Hairdressing and Beauty Therapy training.
The Principal of the Shiveye Vocational Training Institute, Mr. Edward Mackenzie stated that as a community, they are committed to empowering themselves for improved livelihoods adding that the training has provided parents with essential skills to enhance their employability, support their personal development, their families and this IHELP center.
"We aspire to bring more partners on board to ensure our growth. We have experts who are providing guidance and training to the parents. Once we are well established, we are certain to generate income to sustain this project and even expand our sources of income," said Mr. Mackenzie.
Mer. Chris Wanga (second from left), Dr. Rose Opiyo (next to him) and other community leaders.
This project is highly supported by the community administration. One of the Administrators, Mr. Chris Wanga stated that it is an honor for the community to be hosting three IHELP Centers namely, Shima, Indete, and Naliava centers.
"We learned so much from our partners in Uganda during a benchmarking visit in their IHELP centers. The knowledge attained from the workshop has challenged us to do much here. Courtesy of the IHELP project, our children are better prepared for formal schooling and have higher academic achievement compared to the rest. We have a Sacco where parents save money and are eligible for loans after six months. The monies are plowed back to support the center and at the same time enable women to support their families," he stated.
A section of the Community Members Committee
By embracing the key components of early childhood education and recognizing its importance, we can ensure that every child has the opportunity to thrive and reach their full potential. The IHELP project is anchored in several key components that provide a holistic learning experience for young children. These components include Play-based Learning, Developmentally Appropriate Curriculum, and Inclusivity. IHELP has trained the parents on various components including leadership, mobilization of resources, children safety, health and nutrition as well as income generation. This was aimed at ensuring the sustainability of the project.
By Linet Owuor