---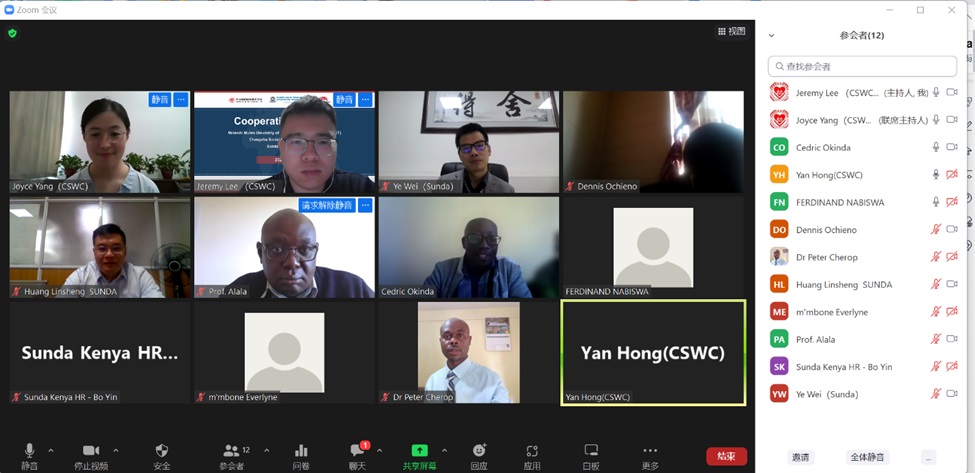 The participants of the online meeting.
---
MMUST was identified through Sunda International Group, which is a Chinese school-enterprise cooperation partner based in Kenya. Through their introductions, they discovered that MMUST is committed to contributing qualitatively towards sustainable and equitable scientific, socioeconomic and technological development in Kenya and beyond. MMUST is an accredited TVET institution.
The participants of the bilateral meeting included; Dr. Cedric Okinda who was the link between the two partnering institutions, the Director, Privately Sponsored Students Programmes, Prof. Benedict Alala (representing the DVC-PRI), the Ag. Director- DIAL, Dr. Ferdinard Nabiswa, Coordinator, Webometrics and Short courses, Dr. Dennis M.W. Ochieno, Dr. Peter Cherop (representing the Dean School of Engineering and Built Environment), Dr. Everlyne Mmbone, Yang Shuai, Director of the International Exchange Office and also the Dean, Li Gi : Secretary in Charge of Overseas Education, Mr. Harrison Shangwira, Mr. Christoph Sowadan (Chinese language interpreter) and Mr. Fred Koyaya.
With the deepening of the Belt and Road Initiative as well as a shared future with China, many Chinese enterprises have attracted the demand of local skilled personnel, especially for TVET training in Africa. These centers will serve as a base for conducting vocational training, to nurture local talents in order to meet the needs of the dynamic industry. MMUST is part and parcel of these positive dynamics.
---
By: Linet Owuor