"Establishment of Childcare centres will be a great solution to the caregiving challenge, that is common especially to children below the age of four years. We have incorporated the Children Ministries and set up a legal framework complete with policies accepted by the National government to ensure this project becomes a success. These centres will equip our children with both social and physical skills," stated Dr. Lutomia.
He was accompanied by Ms. Agnes Mukhuvi from the Department of Social Services Kakamega County and the Director Early Childhood in Kakamega County, Mr. Sam Murambi.
---
Prof. Godfrey Ejuu embraces a child at one of the Ihelp centres in Kakamega County.
---
The professor of Early Childhood from Kyambogo University, Prof. Godfrey Ejuu, noted that IHELP research is a model that will certainly upscale early childhood learning and inclusive caregiving. He urged Dr. Rose Opiyo, the Co-Principal Investigator (PI) to develop a hierarchy of command, create a work plan for the centres, establish a children assessment model and make use of the available local resources to make play materials for the children.
"I would like to encourage my Co-PI Dr. Opiyo to continue with community mobilization and work on the dependency of the project for the community. It may also be necessary to create a program for the children that is more of play than academic and work on inclusivity aspect of the research," encouraged Prof. Ejuu.
---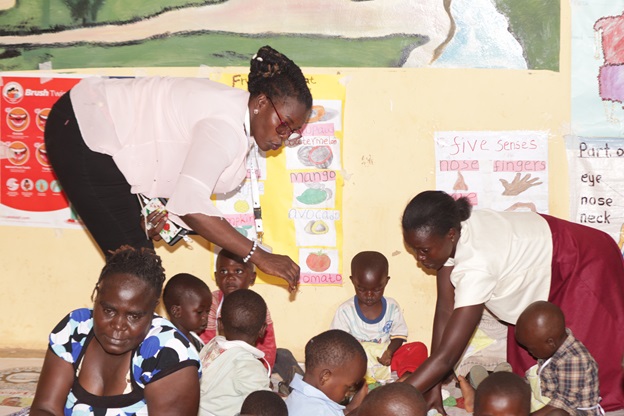 Dr. Rose Opiyo demonstrates an activity to the caregiver at Cardinal Centre.
---
Additionally, the Coordinator, IHELP from Kyambogo University, Dr. Martin Omonding, highlighted the areas that were well executed which included active leadership and involvement of the County administration, children safety, inclusion of postgraduate students to carry out their research within the project, improved sanitation as well integrated services and supervision. The centres have permanent and spacious structures which are favorable for the children as well as inclusion of nutrition in the children's meals.
---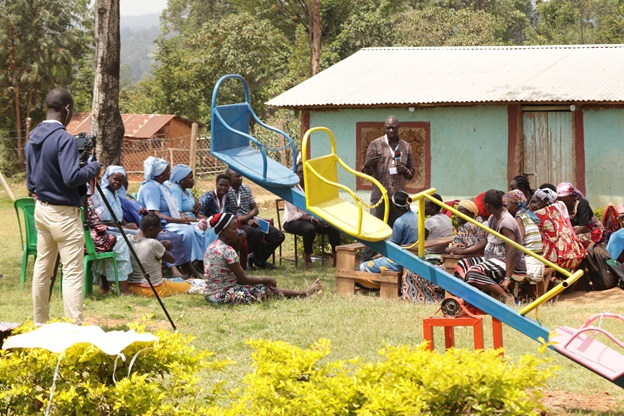 Prof. Godfrey Ejuu addressing the participants.
---
The visiting partners were impressed by the implementation of a number of aspects which they promised to effect back home. These aspects, which were pointed out by the project Focal Person-Dr. Miria Nandera, included: publicity of IHELP research up to national level, nutritional aspect, involvement of experts from diverse fields, the county administration inclusion in sustainability of the project, double meals for the children and creation of nap time for the babies to rest.
---
One of the caregivers playing with the children.
---
The other members of the team from Uganda, Research Assistants, Mr. Lubanga Elvis and Mr. Emmanuel Emiau, termed the whole activity as a thrilling and learning experience that has impacted on their research experience.
The IHELP impact assessment exercise will undoubtedly ensure that the challenges in the project are addressed at this early stage to ensure advancement and sustainability of IHELP centers across the three partnering countries; Kenya, Uganda and Zimbabwe.
---
By Linet Owuor and Wilberforce Shiundu
Photos by Wilberforce Shiundu