"I urge my fellow professors to carry out outreach in their various disciplines. This will not only market our programs out there but it will also greatly increase our visibility as a University," said Prof. Ngaira.
---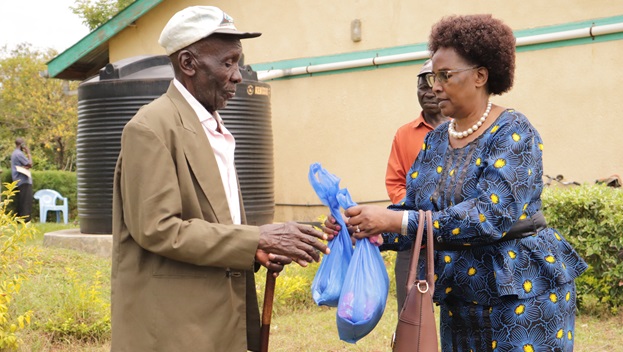 Prof. Ngaira giving donations to a community member during the outreach.
---
Such outreaches have the potential of changing the livelihoods of communities and are in line with the University's mandate to teach, research and undertake outreach. This particular outreach encompassed diverse interventions including eye screening, health assessment and treatment, food and clothing donations as well as dispensing drugs to the sick.
Speaking to the Directorate of Corporate Communications crew at the Tombo event, the nurse representing the MMUST health services Ms. Jackie Makokha pointed out that this team has been working closely with them and encouraged other teams from the University to utilize the health services every time they have an outreach.
"I invite other teams in MMUST to utilize the personnel in the University health services unit. We are happy to complement the efforts of those wishing to create change in communities through outreach," she stated
---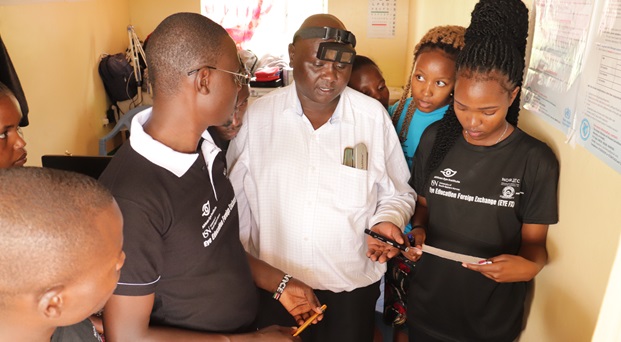 Optometry lecturers; Dr. Julius Rono (centre) and Mr. Andrew Wekesa guiding students during the exercise.
---
The Optometry Department led by the Chairperson, Dr. Christine Wanjala, offered free Eye care services to the members of the community. She noted that through an Eye Education Foreign Exchange (EYE FX) partnership existing between MMUST, University of South Eastern Norway and African Eye Institute, they have been funded by NOREC to conduct this activity.
"As a Department, this Outreach is key because it is a course for our fifth year students. It also equips them with hands-on skills which is basic in their training as Optometrists. With our supervision, they are able to attend to the patients efficiently, "she noted.
---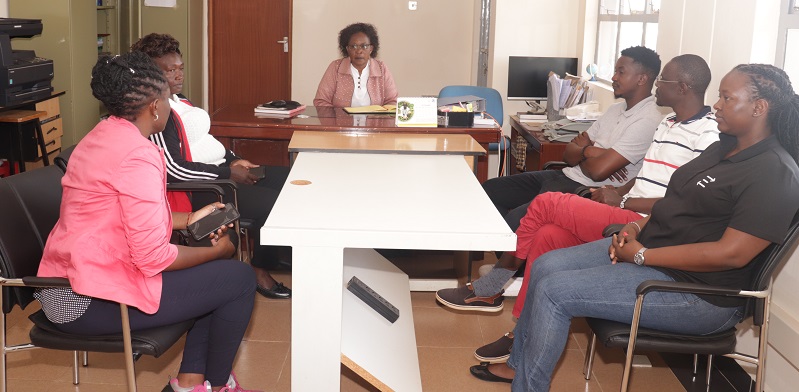 The Optometry team during a courtesy call with the Director, DIAL.
---
Dr. Wanjala was accompanied by staff from the Department including Dr. Julius Rono, Ms. Sheila Nangena and Mr. Andrew Wekesa who guided the students in undertaking their tasks. The Grants Accountant, Ms. Winnie Chebii was also present.
Notably, Higher Education institutions such as MMUST play an important role in shaping communities' development. Not only has this outreach allowed MMUST to serve its communities better, but it has also strengthened the institutional reputation and visibility of the University. Similarly, it is crucial for Universities to expose students to the community early on during their studies. This will increase students' competence and familiarize them with their societies' needs.
---
By Dr. Lydia Anyonje and Linet Owuor
Photos by Wilberforce Shiundu