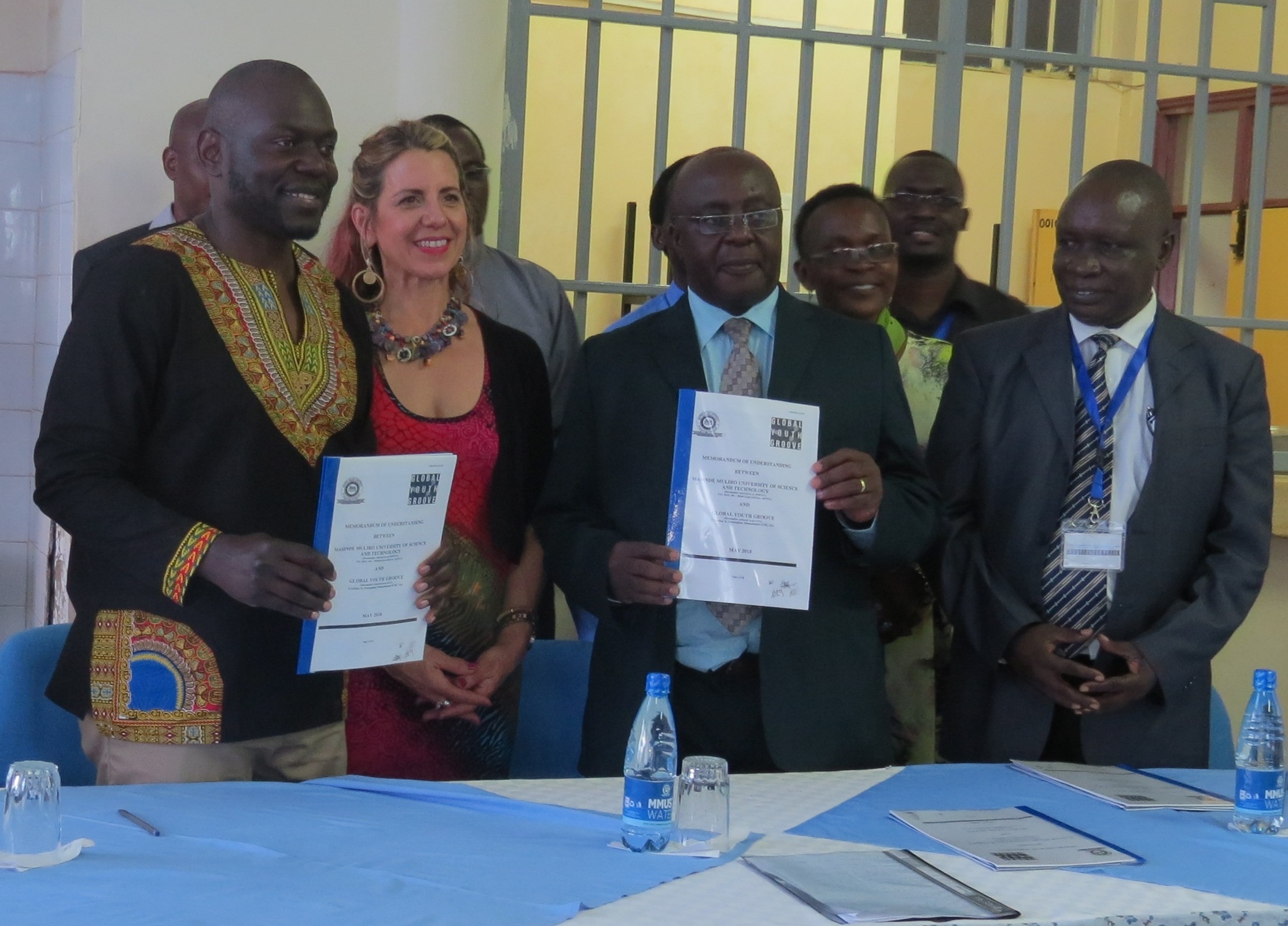 It was a day filled with pomp, splendor and colour at Masinde Muliro University of Science and Technology on Tuesday June 12th, 2018, when the institution received musical instruments from the US-Based Global Youth Groove (GYG), an International Organization that promotes music talent and facilities around the world.
Organized under the Directorate of International Relations and Academic Linkages (DIAL), the collaboration will see MMUST tap music talents from Western Kenya communities, a region best known internationally as 'Home of Isukuti'.
Speaking during the MoU signing ceremony, the Vice Chancellor, Prof. Fredrick Otieno applauded the collaboration, projecting that the institution will have more opportunities to tap talents from the community into the University. He further noted that the collaboration would see some of MMUST students visit Boston USA for music exchange program.
Deputy Vice-Chancellor for Planning, Research and Innovation, Prof. William Shivoga applauded GYG for the donation, and observed that the good gesture will accord MMUST an opportunity to train 'fully baked' graduands with both theoretical and practical skills in music.
"Already, a set of music equipment has been delivered to MMUST and more are expected to arrive before October 2018," said the GYG President, Mr. Sammy Lutomia. He further explained that GYG is a non-profit organization whose mission is to transform the lives of underprivileged children and youth in Kenya, by giving them the opportunity to learn and develop their musical abilities.
Mr. Lutomia further said he was grateful to MMUST Management for the unwavering support towards this initiative. He said the initiative would enable him achieve his lifelong dream of impacting on the lives of young talented musicians in the region. "As an organization, we achieve our goals by gathering state of art music instruments and donating them to our centres and other institutions that advance music education around the world. With a comprehensive curriculum that emphasizes private and group lessons, music theory and essentials skills in music technology, GYG plans to make high-quality music education accessible to underprivileged children and youth in Kenya," he said. He pledged to continue working with the University to help raise more talented Musicians in the region.
MMUST Music programmes are housed in the Department of Journalism and Mass Communication, chaired by Dr. Peres Wenje, within the School of Arts and Social Sciences (SASS) headed by the Dean, Dr. Bob Mbori.