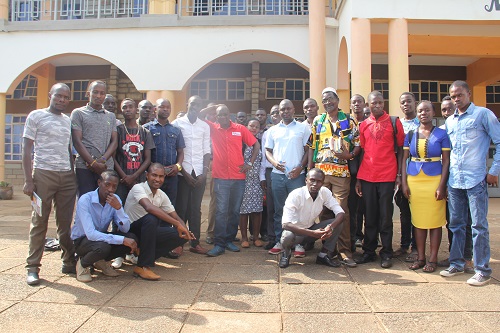 The Directorate of Postgraduate Students (DPS) in conjunction with the Directorate of Research and Postgraduate Support held the Melting Pot Research Seminar on 26th January, 2018. This was the first Seminar in Melting Pot Series.
While addressing the various scholars and postgraduate students in attendance, the Director DPS, Prof. John Obiri, said that the melting pot seminar will encompass a mixed variety of disciplines, cultures, academic ages, mentors and mentees; who all assimilate into a cohesive whole and enhance the culture of research in the University. For a start, it will be held on a bimonthly basis.
Director, Research and Postgraduate Support, Prof. Judith Achoka on the other hand emphasized on the need for persistence in research. She urged the students to submit their applications for the National Research Fund (NRF) and the University Research Funding (URF) so as to be supported in their research work.
"The World is promoting inter-multidisciplinary research. We therefore intend to have a publication series on these seminars", the Chair DPS Board Prof. John Shiundu said.
Prof. Frank K. Matanga, Professor of Political Science in the Department of Peace and Conflict Studies, SDMHA, commended the new idea of the Melting Pot seminars. He underscored the need to strengthen a research culture since research is the core business of the University. He urged the scholars to emulate the late Prof. Calestous Juma who had numerous publications and was a renowned international scholar.
A mosaic of research work and talks were presented by Prof. John Obiri, Dr. Peter Bukhala, Ms. Lucy Kageha of Jaramogi Oginga Odinga Teaching and Referral Hospital, Dr. Charles Epari, Dr. Joash Mabonga, Dr. Rose Opiyo and Dr. Umulkher Ali.
The other scholars who graced the occasion were Dr Sabuni, Dr Alala, Dr Okwena, Dr Barasa, Dr Olege, Dr Mugalavai, Dr. Wanambisi amongst many others.
To get the first presentation in this seminar series please click here. To get a deeper review of the proceeding please check for the synopsis at the MMUST digital repository.