Paying a courtesy call to the Deputy Vice Chancellor Planning Research and Innovation, Prof. Charles Mutai, the DVC applauded the Deutsche Welle Akademie Alumni (DW) team for their initiative to partner with MMUST to empower journalism students. The President of DW Ms. Josephine Wareta expressed her gratitude to MMUST for the collaboration in the quest for nurturing great upcoming journalists.
---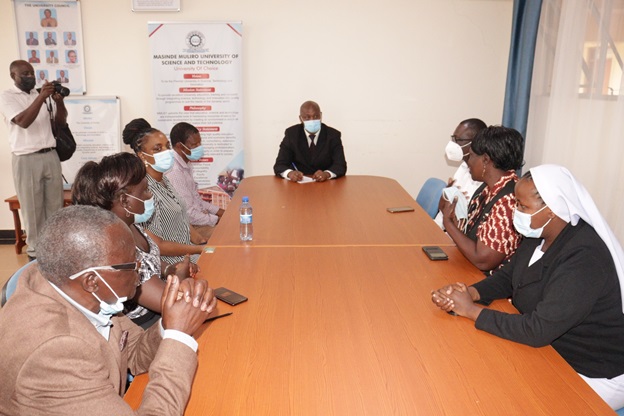 The Deputy Vice Chancellor, Planning Research and Innovation addressing the DW team and JMC lecturers during the courtesy call at his office.
---
Speaking during the forum, the Director of Corporate Communications and Marketing at MMUST, Dr. Lydia Anyonje advised the students to uphold ethical practices in journalism. "We have trained you to do the right thing pertaining to journalism. Your personal integrity and morality in the media industry will be key to your success," added Dr. Anyonje
"We major in mentoring upcoming journalists to become ethical during their reporting. This forum is meant to expose you to corruption case scenarios in the natural working environment. You have to learn how corruption manifests itself in the media industry for you to remain principled in your reporting," encouraged Ms. Wareta.
The Kisumu County Director of Communications, Ms. Atieno Otieno encouraged the JMC students to always practice ethical journalism even in the face of threats, pointing to the recent case of South Africa where journalists played an instrumental role leading to a significant revolution. She stressed on the importance of resisting the temptation of accepting 'the brown envelope' as it may be the beginning of insatiable and unethical practices in journalism. She also emphasized on the need to appreciate small beginnings as the most fulfilling way of building one's career.
---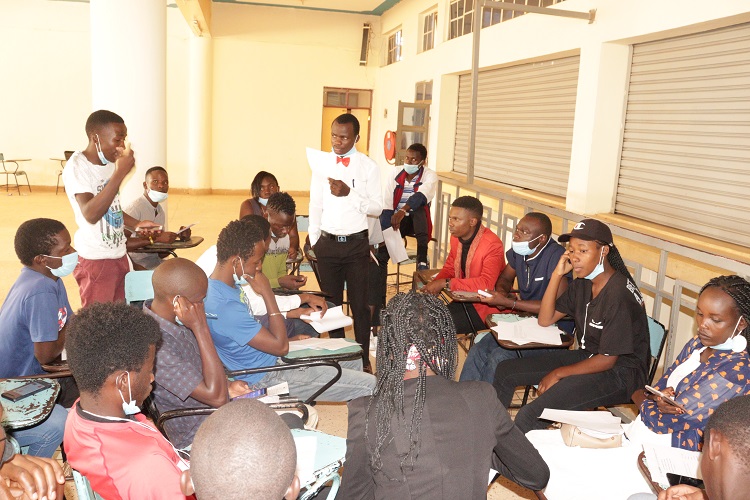 ---
Additionally, the Nation Media Regional Editor, Ms. Caroline Wafula urged the students to give their best during the attachment period as this may result in permanent employment opportunities. She reiterated the importance of practicing integrity in journalism especially during electioneering periods. Ms. Wafula shared the Media Council of Kenya (MCK) guidelines that govern the code of conduct of journalists.
The students attested to the informative session they had with the DW team. "We have been able to interact with industry players who have mentored us in a big way. This forum has been a practical learning experience regarding ethical reporting," said JMC student Caroline Jebet.
The other notable staff members present included Mr. Tom Ouko (JMC Lecturer), Ms. Lilian Mukoche (103.9 MMUST FM), Mr.Elvis Chamegere (103.9 MMUST FM) and Ms. Lucy Shirako (Secretary).
---
By Linet Owuor, Jairus Korir