---
From right: MMUST Chancellor Dr. Peter W. Muthoka, Council Chairperson Dr. Jane Mutua, Dr. James Mwangi of Equity bank and the Vice Chancellor, Prof. Solomon Shibairo during the graduation ceremony.
---
The special event themed '18 years of Mainstreaming Science, Technology & Innovation to Scale the Heights of Excellence' was presided over by MMUST Chancellor Dr. Peter Wanyaga Muthoka. He conferred Honorary Degrees of Doctorate of Science in Financial Innovation and Doctorate of Humane Letters in Business Technology (Honoris Causa) to Dr. James Mwangi and Dr. Mannilal Premchand Chandaria respectively.
The Chancellor advised graduates to endeavor to excel as they embark on their new beginning. "To those of you who are graduating today, I urge you to step into the job market with confidence knowing that you will excel. Through your good performance in the industry, MMUST will position itself as the University known for harnessing Research, Technology and Innovation. Go out there and do what we have empowered you to do," said Dr. Muthoka.
---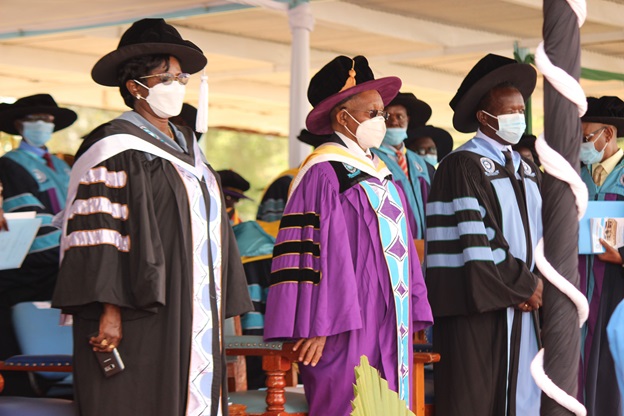 MMUST leadership during the 17th graduation ceremony.
---
In his address, the Chancellor expressed satisfaction with the University's researchers and innovators. "Universities that will succeed in this era are those that harness innovation to transform communities. I am reliably informed that the MMUST Science Park Innovation and Incubation Center (SPIIC) is currently working towards commercializing eight (8) prospective prototypes that our innovators have developed," he stated.
He encouraged MMUST fraternity to sensitize the communities around available products innovated by the University. The Chancellor advised MMUST stakeholders to utilize the expertise that the University has on offer in order to run their programs and projects.
The Masinde Muliro University of Science and Technology Alumni Association (MMUSTAA) Chairman, Mr. Kennedy Echesa encouraged the class of 2021 to join the Alumni Association as the experience will prove vital in shaping their careers, communities and will go a long way in supporting their 'alma mater' to achieve world-class status.
MMUST has positioned itself as a top-rated University in Science, Technology and Innovation in Kenya and beyond. This has been exhibited by its consistent rolling out of all-round students to fit in the competitive and dynamic job market. Congratulations to the class of 2021!
Performers during the Graduation Ceremony
---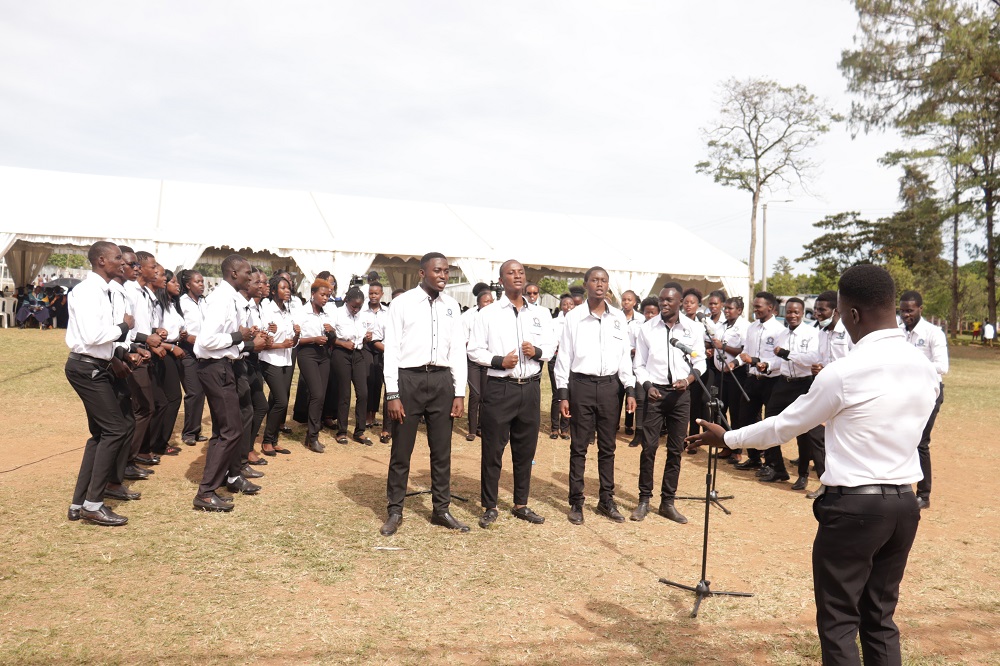 Performers during the Graduation Ceremony
---
By Linet Owuor, Caren Mutoro
Photos by Wilberforce Shiundu , Jairus Korir