The Principal St. Joseph's Girls High School, Mr. Shikhu Lucas expressed his gratitude to MMUST for impacting on the lives of his students. He expressed the willingness to work with the team in ensuring the girls perform well in STEM subjects. "We will be privileged to have you back here so that you can speak to our students about STEM subjects, personal hygiene and attitude towards science based subjects," added the Principal.
"Many students come from a humble background and sanitary towels have been a problem. We even came up with a kitty to help the needy students but I'm glad that MMUST has come to our rescue," said the Deputy Principal, Sr. Mackline Ademba.
---
Dr. Seline Ooko handing a box of sanitary pads to the head girl St. Joseph Girls High School, Ms. Hellen Nanzaha Baraza during the event.
---
Dr. Seline Ooko noted the low performance in STEM subjects and assured the management that she and the team will be back to take the students through STEM subjects as part of the revision exercise in preparation for the Kenya Certificate of Secondary Education (KCSE) final exam. This exercise will be aimed at motivating and ensuring more students are recruited in STEM. She further encouraged the students to study hard and work as a team to join MMUST. "We are here today because of you. I am encouraging you to work hard in your studies, to be role models in the future. This is the time for women to rise, nobody will fight for you," she said.
---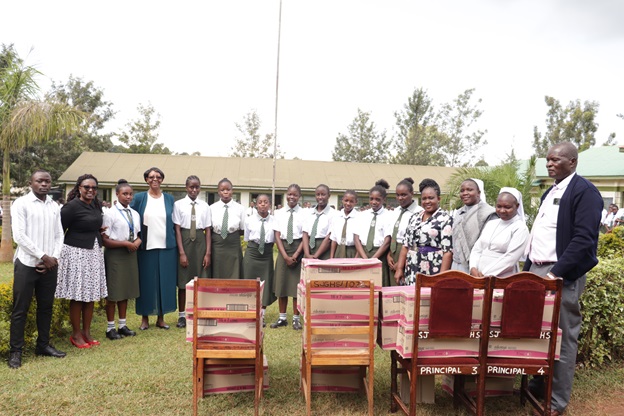 MMUST team and St. Joseph's girls staff and students during the event.
---
Notably ninety percent (90%) of staff at St. Joseph are alumni of Masinde Muliro University of Science and Technology.
Millions of girls in the developing world lack access to menstrual products. As a result, many miss up to 20% of their classes during their periods, thereby increasing the likelihood of dropping out entirely. Girls who don't complete their education marry earlier, earn less, and are at a greater risk of contracting HIV or dying giving birth.
---
By Charity Idaya
Photos by Gabriel Juma
---