Two Sports Club officials Mr. Rajindon Sembi (Chairman Sports Committee) and Amb. Bruce Madete, paid a courtesy call to the Vice Chancellor, Prof. Solomon Shibairo to present the signed copies of the MOU in a joint meeting held at the VC's boardroom.
---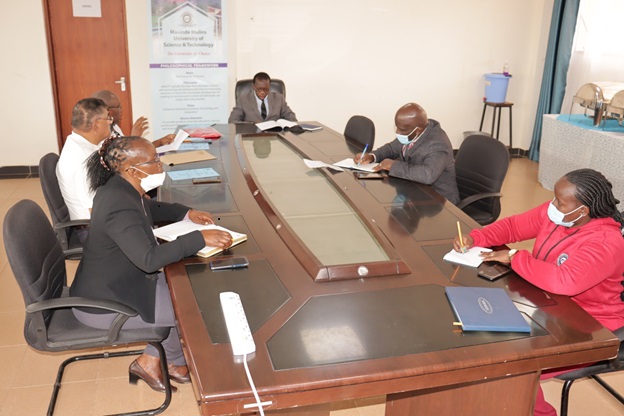 ---
Speaking during the meeting, the Vice Chancellor appreciated this partnership that will enable MMUST to work jointly with Kakamega Sports Club in matters of Sports Science and Physical Education. "I welcome the initiative and look forward to a fruitful collaboration with KSC," noted Prof. Shibairo.
The Director, Research and Postgraduate Studies Prof. Peter Bukhala reiterated the importance of the collaboration stating that this will offer our students pursuing Sports Science attachment opportunities to sharpen their skills. It will also offer opportunities for MMUDT's Sports Science students to train to be professional caddies and golf players.
"We have revised our curriculum to include golf as one of the key areas. Such collaboration will integrate training, entertainment as well as games and sports services to our stakeholders," added Prof. Bukhala.
---
Amb. B. Madile exchanges MOU documents with the Vice Chancellor Prof. Solomon Shibairo.
---
Additionally, the Director, International relations and Academic Linkages (DIAL), Dr. Catherine Aurah expressed gratitude to both parties for actualizing the partnership. She urged that the objectives of the MOU be fully implemented for the mutual benefit of the two parties.
Some of the benefits entailed in the MOU included Club corporate membership, provision of hospitality and catering services, provision of image building and enhancement of learning activities such as scholarships for students undertaking sports disciplines.
---