Speaking during the MoA signing ceremony, Prof. Solomon Shibairo, acknowledged that this collaboration will have a positive impact on the University's e-learning platform. "I believe that both teams will work well together for a fruitful outcome," he said.
Senior Vice President of HEP Business Development in Europe, the Middle East and North Africa (EMENA), Ms. Rone Robbetze emphasized on the importance of e-learning channels in institutions of higher learning. "E-learning is flexible. It makes it easier especially for people who learn and work at the same time, as well as those who are far from these institutions," she stated.
According to MMUST's Director, ODeL, Prof. Gordon Nguka, HEP will be investing about Four (4) million dollars for ten (10) years in this collaboration. "This will make learning at MMUST more efficient and will lead to internationalization of our academic programmes. The collaboration between MMUST and HEP will create a student-centric environment within the University as learning will become easier at various levels," explained Prof. Nguka.
---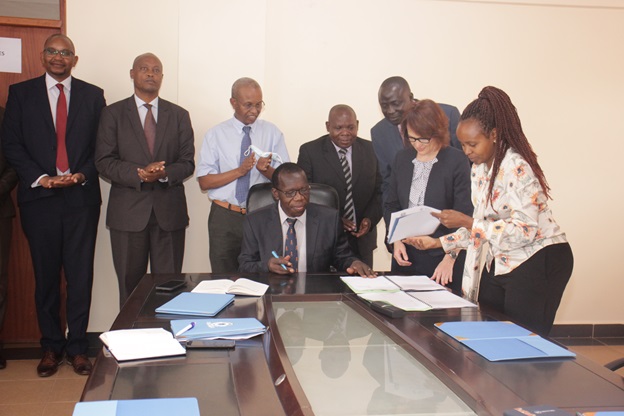 Participants at the MoA signing
---
Other notable personalities present at the ceremony were; DVC (Academic and Students Affairs), Prof. Hussein Golicha, DVC (Administration and Finance), Prof. John Kuria Thuo, DVC (Planning, Research and Innovation), Prof. Charles Mutai, a number of MMUST professors, as well as HEP leaders in East Africa, Ms. Lilian Njeri and Mr. Martin Yogo.
This MoA will certainly transform the e-learning platform in MMUST hence taking it to a higher level in the area of online teaching and learning.
---
By Risper Wairimu and Verna Awuor