DVC PRI (speaking) together with the WWANC and Water Facilities representatives
---
Speaking during the joint meeting, Prof. Mutai assured the team of the University's support stating that MMUST is committed to conservation of water. He highlighted various efforts that the University has put in place for water security including the revival of the water institute at the University.
"MMUST is interested in research especially how to channel critical information to the communities for purposes of improving their livelihoods. We are open to the idea of fund merging and encourage our partners to consider doing this with us," he added.
Giving an overview of the project, the Principal Investigator, Ms. Stella Wanjala said that the purpose of the project is to bring together stakeholders interested in water security in order to focus on nature based solutions to tackle water security challenges.
"The Yala River Catchment is experiencing forest degradation, rapid settlement and agricultural encroachment, which is affecting water security (quality and quantity). MMUST is one of the key Universities in the region and therefore, our important stakeholder in the Higher Education sector. We intend to use the University laboratories up to seven months and we will offer opportunities for post graduate students through this project," stated Ms. Wanjala.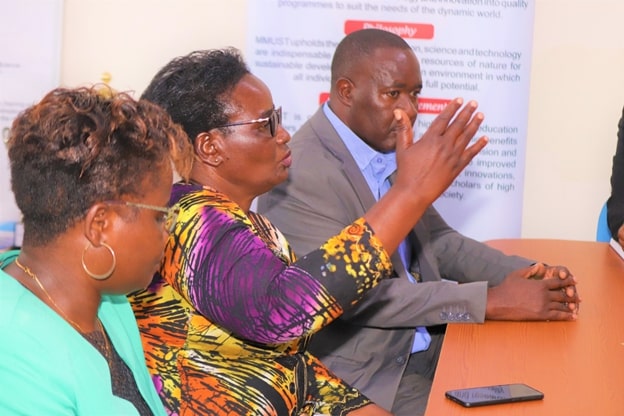 The Principal Investigator, Ms. Stella Wanjala speaking during the meeting.
---
Ms. Rose W. Sifuna from WWANC pointed out that the organization has created a platform to enable women to deal with water conservation and they were happy to partner with MMUST in working with indigenous women.
Rose W. Sifuna (middle) at the meeting.
---
Similarly, Ms. Hannah Benn from the Nature for Water Facility, South Africa, who was accompanied by Ms. Tamryn Heydenrych revealed that their organization is bringing on board a finance and investment mechanism involving stakeholder engagement in the Yala River basin.
"We have a scientific work stream to taste the impact of various solutions to water security and thereafter they will carry out a Return On Investment (ROI) analysis," she said
Additionally, Mr. Douglas Nyolei from the Nature for Conservancy mentioned that they provide technical assistance that addresses water security challenges using nature based solutions adding that in order to do this effectively, they will bring people together to create a system of sustainable financing.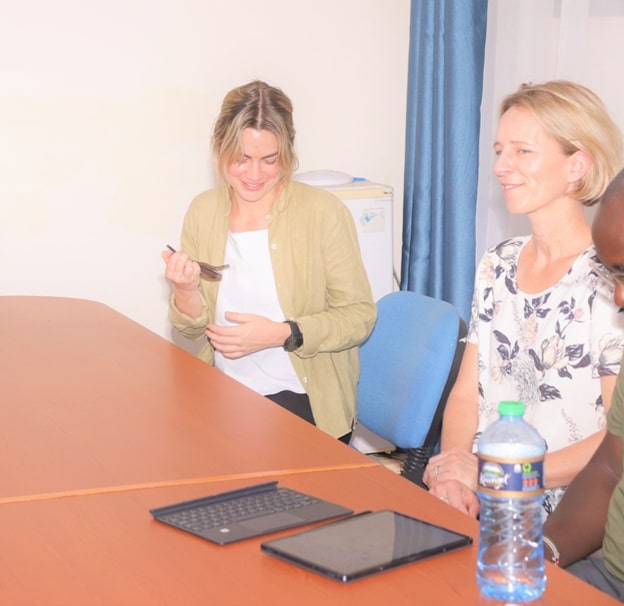 Ms. Hannah Benn and Ms. Tamryn Heydenrych from the Nature for Water Facility, South Africa.
---
The other members of the team present included Prof. Stanley Omuterema, Dr. Antony Sifuna, Dr. Lydia Anyonje, and Dr. Humphrey Agevi. They expressed delight to partner with WWANC and provide their research expertise as well as mapping, training and sensitizing communities. The Dean, School of Natural Sciences- Dr. Joseph Owino and Chair of Department Dr. Philip Ogutu were also present during the courtesy call.
---
By Lydia Anyonje and Linet Owuor