"We are conducting these Webinars to create awareness on the importance of indigenous knowledge, as well as to generate information for future documentation," said the Director IICKS, . Prof. Shiundu stated that his Directorate is committed to reviving indigenous knowledge, saying that it could be leveraged to solve some of the challenges facing the world.
According to the Deputy Director IICKS, Dr. Lucy Mandillah, members who presented in the first Webinar have developed a concept paper, based on the gaps that were identified, and submitted it to the Directorate of Research and Postgraduate Support for possible funding. "Once we have covered all the Schools, we will have an international conference that will bring together researchers and scholars from different fields," she added.
---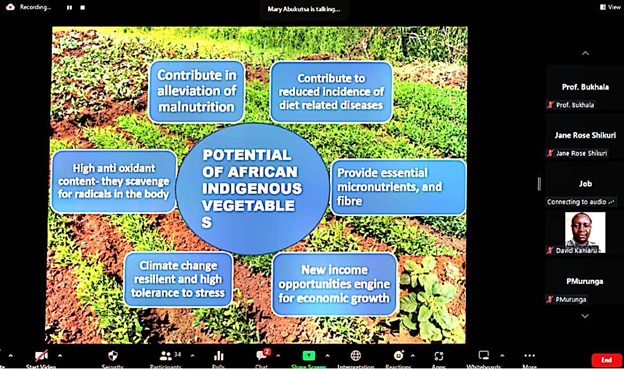 JKUAT's Prof. Mary O. Abukutsa shares the potential of African indigenous vegetables during her presentation.
"Africa is endowed with indigenous vegetables that have been proven to be more nutritious compared to other types of vegetables," said Jomo Kenyatta University of Agriculture and Technology's African indigenous food crops expert, Prof. Mary O. Abukutsa. Prof. Abukutsa, who was presenting on 'Leveraging African Indigenous Vegetables for Food Security and Health,' however noted that there is an inadequate consumption of these vegetables. "AIVs have the potential to not only contribute to the Sustainable Development Goals, but also to Vision 2030," she stated.
MMUST's professor of nutritional sciences, Prof. Asenath Sigot, focused on sweet potatoes and cassava, in her presentation on 'Promoting Food Security through Harnessing Traditional Food Staples.' "Sweet potatoes and cassava are some of the traditional staples that have been overlooked when discussing food security. We have been emphasizing on maize but it is high time we start thinking about other staples," said Prof. Sigot.
Further, Prof. Sigot pointed out that both sweet potatoes and cassava are highly nutritious, and can be used for disease prevention. "These two superfoods are capable of alleviating food insecurity. Sweet potatoes and cassava can withstand climate change, they don't need much fertilizer and their maturity period is short," she said.
"Kenyan indigenous foods are sustainable and are not threatened by the Genetic Modification (GM) technology. So far, studies show that in Kenya, only one food group has been affected by GM. This group comprises of bread, cereals and tubers," stated Prof. Gordon Nguka, a lecturer in the MMUST's Department of Nutritional Sciences. In his presentation titled 'The Position of Kenyan Traditional Indigenous Foods in the Wake of GM Foods,' Prof. Nguka said that Kenyans are safe, as far as GM is concerned, because the country is protected by the National Biosafety Authority (NBA).
---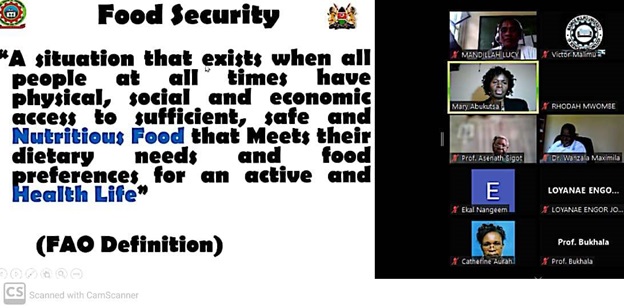 Participants follow keenly during a presentation.
Dr. Anne Aswani, a lecturer in the Department of Nutritional Sciences, reiterated that indigenous foods are highly nutritious, ecologically friendly and can help ease food safety issues. "There are existing technologies for production and processing of indigenous foods, which we can leverage to enhance food security," said Dr. Aswani, during her presentation on 'The Status of Indigenous Foods in the Face of Technological Advancement.'
Dr. Aswani pointed out that technology with regard to Indigenous Foods (IFs) is still low and that this is hampering the consumption of IFs despite their benefits. "For the potential of IFs to be realized, better knowledge and technologies are needed on production, processing and marketing opportunities," she said, adding that there is need for policy makers to develop clear targets, goals and strategies for the promotion of IFs.
Undoubtedly, MMUST's Institute of Indigenous Knowledge and Cultural Studies is at the forefront of making African indigenous knowledge great again. The Western culture has replaced indigenous knowledge, which has made people develop negative attitudes towards the latter. From the IIKCS' Webinars, it is evident that there are many aspects of indigenous knowledge that can be tapped into to address societal problems, and that it is time to start embracing it.
---