MMUST staff and students clean jigger-infested feet during the 2023 National Jiggers Awareness Day.
Masinde Muliro University of Science and Technology has intensified its efforts to combat jigger infestation in the Western region of Kenya. On Friday, 3rd March, 2023, a group of staff and students participated in the National Jiggers Awareness Day by offering volunteer services to the residents of Khwisero Sub-County in Kakamega County. The event, themed 'Jigger Awareness and Elimination is Our Responsibility,' was organized in conjunction with various organizations including the Ministry of Health, the County Government of Kakamega, Saraya Kenya, the Africa Institute of Health and Development, as well as Ahadi Kenya Trust.
The 2023 National Jiggers Awareness Day attracted notable personalities in the Government, such as the Principal Secretary State Department for Public Health and Professional Studies, Dr. Josephine Mburu, the Deputy Governor of Kakamega County, H.E Hon. Ayub Savula, Minister of Health Services Kakamega County, Dr. Benard Wesonga, the Chief Officer of Health Services Kakamega County, and Directors from several organizations.
A man's feet are immersed in hydrogen peroxide during the treatment process.
Speaking during the event, Dr. Benard Wesonga stated that MMUST, as the biggest institution of higher learning in Kakamega County, should take lead in conducting research on the jigger menace. Subsequently, Dr. Dennis Ochieno, a Senior Lecturer and Researcher at MMUST's Department of Biological Sciences, called on all organizations present during the event to build strong sustainable partnerships in the fight against jigger infestation. "MMUST is ready to work together with the County Government of Kakamega, as well as the larger health and education sector, in ensuring that the jigger menace is dealt with," added Dr. Ochieno.
A total of about one hundred and six (106) patients received treatment on that day. The individuals comprised of school going children, who were the majority, the youth and the elderly.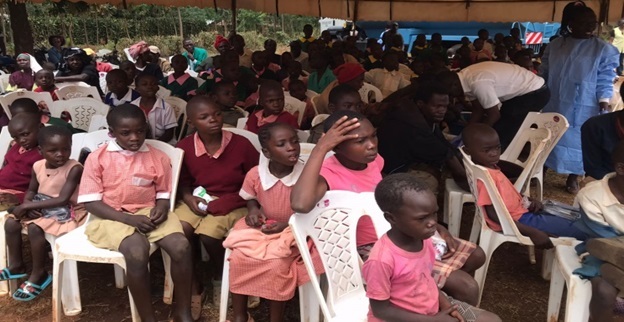 A section of children await treatment during the event.
MMUST staff present during the exercise were; Dean, School of Public Health, Biomedical Sciences and Technology (SPHBS&T), Prof Edwin Wamukoya, Chairperson of the Department of Medical Laboratory Sciences, Mr. Fidelis Mambo, Dr. Sabella Kiprono, Dr. Godfrey Gitonga, Ms. Jayne Munyao, Ms. Carolyn Odori, Mr. Eliphalet Otunga, Ms. Anne Onyando and Ms. Lilian Owala.
Masinde Muliro University of Science and Technology has continually taken part in anti-jigger campaigns, while its researchers undertake studies in an effort to eradicate jigger infestation. It is evident that the University will do whatever it takes to end this menace, including the involvement of other stakeholders, as well as community outreach.