Workshop participants at the University's Main Catering Unit.
The Kenya Bureau of Standards (KEBS) has selected Masinde Muliro University of Science and Technology to assist in designing the proposed standard for indigenous knowledge and cultural economies. On Monday, 28th August, 2023, the Institute of Indigenous Knowledge and Cultural Studies and Climate Change (IIKCSCC) hosted a one-day Workshop for Indigenous Knowledge Holders (IKHs) drawn from different parts of Kakamega County. The IKHs, who interacted closely with the KEBS representative-Mr. Micah Rachuonyo, and MMUST scholars, showcased various traditional products including herbal medicine, honey, mosquito repellent candles, ointments, beauty products and vegetables.
"MMUST has continuously supported the activities of IIKCSCC, as well as partnering with practitioners of indigenous knowledge to foster the utilization of African values and systems in our communities," said the Vice Chancellor, Prof. Solomon Shibairo. He added that the University is committed to supporting indigenous knowledge holders to ensure that cultural heritage is not lost.
DVC-PRI, Prof. Charles Mutai gives his remarks at the event.
Speaking during the Workshop, which he later officially closed, The Deputy Vice Chancellor (Planning, Research and Innovation), Prof. Charles Mutai, pointed out that Western education and culture has suppressed the African IK. "There is a need to document IK for the future generations. The information that IKHs have, is precious to MMUST and calls for merging of IK and technology to ensure that it does not lose its value," stated Prof. Mutai.
While giving an overview of the Workshop, the Director-IIKCSCC, Prof. Josephine Ngaira, said that KEBS had reached out to the University to assist in mobilizing IKHs in the communities for purposes of promoting the IK standardization initiative. "I am glad that KEBS is here in MMUST to see what our people are producing. Documenting IK should be done in a structured way, such that it includes financial returns for the IK holders," she said.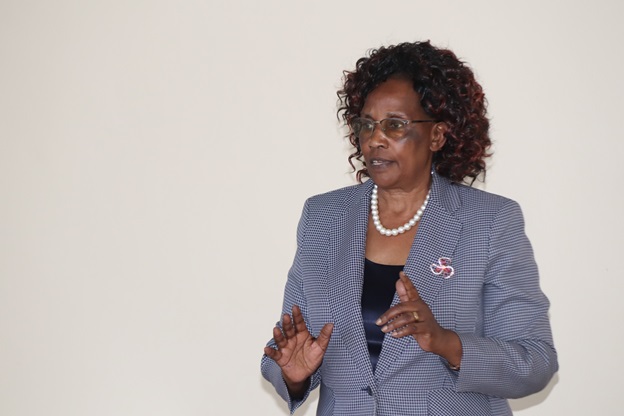 Director-IIKCSCC, Prof. Josephine Ngaira, explains a point during the Workshop.
"There are numerous local solutions in the villages that can be utilized to deal with health, environment, economic and psychological challenges. However, we need a framework, standard or quality infrastructure for IK products to enter the market," noted Mr. Rachuonyo. The KEBS representative proposed the establishment of training centers where communities can learn about IK and reap its full potential. He also encouraged IKHs to embrace self-regulation through policies that govern how the IK products can be managed.
Echoing the other MMUST scholars, Prof. Francis Orata, Dr. Lucy Mandillah, Dr. Lydia Anyonje, Dr. Umulkher Ali and Fr. Dr. Kizito Muchanga, all agreed that researchers must tap into the reservoirs of IK through continuous and productive community engagement. They thanked the University for providing such platforms for critical information exchange and preservation of IK.
KEBS' Mr. Micah Rachuonyo makes a presentation.
The Workshop presentations by practitioners included, Mr. Johns Wambetsa (popularly known as MotoMwaka), Mr. Stanley Imbusi and Mr. James Ligare. Other MMUST members present were Mr. Oscar Waswa, Mr. Ken Ochieng, Ms. Rhoda Mwombe and Mr. Joram Moyi.
This initiative will be an opportunity for IIKCSCC to strengthen its ties in research and collaboration with KEBS and the Indigenous Knowledge holders. Further, MMUST will take the lead in knowledge management through the standardization process.
By Dr. Lydia Anyonje and Wangari Wambugu
Photos by Gabriel Juma